 Spinee (Hoax)
Melania Trump has no known pets, but a popular internet hoax has circulated for a couple years she has a Labrador Retriever named "Spinee". Fake tweets from Melania had been reported, saying that Spinee underwent a risky surgery and she was asking for prayers for its recovery. Husband Donald Trump is noted for being the first US President in over 100 years to not have a dog in the White House.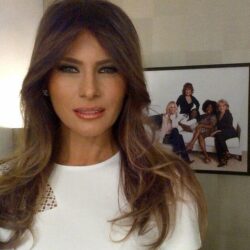 Birthday
April 26, 1970 (52)
Melania Trump was born in Slovenia and has an estimated net worth of $50 million. She is a former model best known as the wife of President Donald Trump and is noted as the second foreign-born First Lady of the United States. The first being Louisa Adams, born in London and married to John Quincy Adams, who was president from 1825 to 1829.
She grew up modestly in Slovenia and started modelling at age 5. Her success as a model grew, seeing her work with fashion brands in Italy and France. She immigrated to New York City in 1996 to further her career and was featured in magazines such as Harper's Bazaar, Allure, New York Magazine, Vanity Fair, Vogue and Sports Illustrated Swimsuit Issue. She met Donald Trump in New York City in 1998 and eventually got married in 2005.