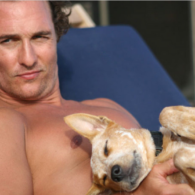 Foxy
After the tragic loss of Ms. Hud, McConaughey revealed Foxy on Oprah Winfrey's show in February 2006. This red heeler is a breed of Australian cattle dog, which are descendants of the dingo. Foxy has appeared many times in the tabloids, thanks to his human often being photographed running shirtless on the beach.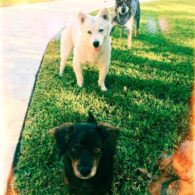 B.J.
B.J. was his second dog after Foxy, with initials that stand for "Beef Jerky". He shared a crazy story about B.J. on The Graham Norton Show that involves BJ, a giant ram and throwing his baby down a cliff to escape. Check out the video for the full story. Ms. Hud was a lab/chow mix that McConaughey picked up from a pound in Arizona in 1993. They were very close and travelled everywhere together. Sadly in 2005, Ms. Hud was diagnosed with cancer and had to be put down.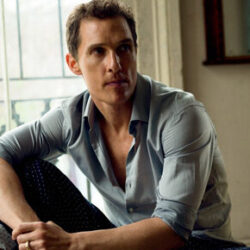 Birthday
November 4, 1969 (53)
Matthew McConaughey is an American actor. His breakout role was in the 1993 comedy Dazed and Confused, with other notable 90s roles in A Time to Kill, Amistad and Contact. In the 2000s, he was became well known for his romantic comedies, such as The Wedding Planner with Jennifer Lopez, How to Lose a Guy in 10 Days with Kate Hudson, Failure to Launch with Sarah Jessica Parker and Ghosts of Girlfriends Past with Jennifer Garner.
In the 2010s, he started to appear in dramatic roles, such as The Lincoln Lawyer, Mud with Reese Witherspoon, Magic Mike with Channing Tatum, The Wolf of Wall Street with Leonardo DiCaprio and Interstellar with Anne Hathaway. For his starring role in 2013's Dallas Buyers Club, he won an Academy Award and Golden Globe Award for Best Actor. In 2012 he married Brazilian model Camila Alves and have four children together.
On top of adopting dogs himself, McConaughey is known to help any animals in need and is a supporter of the Mississippi Animal Rescue League. After Hurricane Katrina, he helped rescue over 50 dogs and 20 cats.