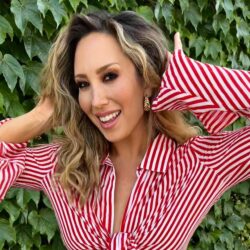 Birthday
May 3, 1984 (39)
Cheryl Burke, an admired American professional dancer, has gained substantial recognition for her role as a regular dancer and choreographer on ABC's reality television show, "Dancing with the Stars."
Burke's rise to fame came when she joined the cast of "Dancing with the Stars" in its second season in 2006. Her rhythm and knack for creating impressive choreography earned her an immediate spot in the hearts of many American viewers. Not only did she impress the audience, but her celebrity partners as well, guiding two of them, Drew Lachey and Emmitt Smith, to win the coveted Mirrorball trophy in consecutive seasons (Seasons 2 and 3). Beyond the confines of television, Burke authored a book "Dancing Lessons: How I Found Passion and Potential on the Dance Floor and in Life" that touched upon her journey in dance and her personal life.
Burke's collaborations throughout her career have been extensive and influential. Among the celebrities she's partnered with are renowned figures such as actor Gilles Marini, singer Wayne Newton, football legend Chad Ochocinco, reality TV star Rob Kardashian, and comedian D.L. Hughley. Notably, her partnerships extended to figures like war veteran J.R. Martinez, whose inspiring story captured the hearts of many. Besides, she teamed up with iconic stars like Jack Osbourne, son of Ozzy Osbourne, fashion guru Carson Kressley, and Olympian Ryan Lochte.
Over the years, Burke's remarkable talent and relentless efforts in the dance industry have been recognized with several honors. In addition to her two Mirrorball trophies, she was nominated for a Primetime Emmy Award for Outstanding Choreography in 2006. In the same year, Burke won the Role Model Award from the Professional Dancer's Society, a testament to her impact within the industry.