 Doesn't Like Dogs
Known for controversial remarks, Nick Fuentes commented that he does not like being greeted by dogs in a March 2023 video. The political commentator mentioned that his family does have a couple dogs at home, but he finds being greeted by them at the door as a "horrible experience."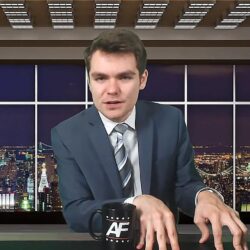 Birthday
August 18, 1998 (25)
Nicholas Joseph Fuentes, commonly known as Nick Fuentes, is a prominent figure in the American far-right political spectrum, notable for his white supremacist ideologies and online content creation. Having fallen afoul of YouTube's hate speech policy, his channel was permanently suspended in February 2020. Fuentes is known for his antisemitic views and denial of the Holocaust, ideologies that have drawn widespread criticism.
Fuentes identifies with various controversial factions, including the incel movement, supporters of authoritarian government, and espouses a form of Christian nationalism known as Catholic integralism. He notably collaborated with Patrick Casey, a former leader of the neo-Nazi organization Identity Evropa, in 2019. In 2023, Pearl Davis who is known for her "anti-feminist" views dedicated a song to him titled "Why can't we talk about the J3ws?"
His followers, collectively termed as 'Groypers', gained attention for heckling Turning Point's Culture War Tour, including an event featuring Donald Trump Jr. In 2020, Fuentes initiated the annual America First Political Action Conference (AFPAC), aimed at creating a white supremacist counterpart to CPAC. Fuentes' presence was noted at the infamous 2017 white supremacist rally in Charlottesville and later at events leading up to the 2021 United States Capitol attack. He is known to promote the use of jokes and irony among white nationalist groups as a tool to provide 'cover' for their views.
In a highly publicized event in November 2022, Fuentes, along with Kanye West, was invited for a private dinner with former U.S. President Donald Trump. The meeting sparked heated debates among political figures, both domestically and internationally, particularly affecting the American Jewish community.