 No Pets (Lil Tjay)
Lil Tjay does not have any reported pets.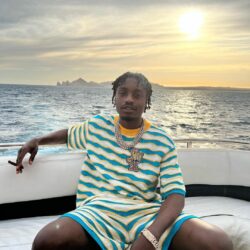 Birthday
April 30, 2001 (22)
Tione Jayden Merritt, known professionally as Lil Tjay, is an American rapper. One of the milestones in Lil Tjay's career was the release of his debut mixtape, "True 2 Myself." This project showcased his unique blend of melodic rap and introspective storytelling. With hit singles like "F.N" and "Brothers," Lil Tjay captivated audiences with his emotive delivery and relatable lyrics.
Lil Tjay's collaborations with influential figures in the music industry have further contributed to his success. Notably, he has worked alongside fellow rapper Polo G on the song "Pop Out," which garnered millions of views and solidified both artists' positions as emerging talents. Lil Tjay has also collaborated with renowned artists such as Lil Wayne, Offset, and Pop Smoke, resulting in chart-topping tracks and a wider reach for his music.