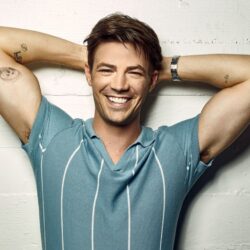 Birthday
January 14, 1990 (33)
Grant Gustin is an American actor, recognized for his portrayal of the superhero character 'The Flash' in the television series of the same name. Born in Virginia, his talent and charisma have positioned him as a significant figure in the realm of television.
Breaking onto the scene in 2011, Gustin's first major role came with 'Glee,' a popular musical comedy-drama series where he played Sebastian Smythe, a conniving and charismatic member of a rival show choir. However, it was his casting as Barry Allen, also known as The Flash, in the eponymous CW series that truly solidified his place in popular culture. Embracing his role with passion and dedication, Gustin's performance has given depth and nuance to the fast-paced superhero, making the show a significant success story for DC television adaptations. In addition, his film debut in 'Affluenza' added to his diverse body of work, showcasing his versatility as an actor.
Throughout his career, Gustin has shared screen and stage space with a variety of other artists, celebrities, and influential figures. His collaborations extend from the set of 'Glee,' where he worked with stars such as Lea Michele, Chris Colfer, and Darren Criss, to 'The Flash,' where he regularly interacts with an ensemble cast that includes Candice Patton, Tom Cavanagh, and Danielle Panabaker. Notably, his role as The Flash led to a series of 'Arrowverse' crossover events, connecting him with other significant figures in the superhero realm, such as Stephen Amell (Arrow), Melissa Benoist (Supergirl), and Caity Lotz (White Canary).
Gustin's remarkable performances have not gone unnoticed in the industry. His role in 'The Flash' earned him the Saturn Award for Best Actor on Television in 2015, an honor indicative of the critical acclaim his portrayal of Barry Allen has garnered. Furthermore, he's been nominated for the Teen Choice Award for Choice TV Actor: Fantasy/Sci-Fi multiple times.