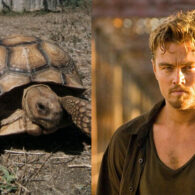 A Sulcata Tortoise
For $400 in 2010, Leonardo DiCaprio picked up a 10-year-old Sulcata tortoise at the North American Reptile Breeders Conference and Trade Show in Anaheim, CA. A long term commitment to say the least, the tortoise is expected to live another 80 years and grow to around 200 pounds. It's rare to have a pet companion that has a great chance of outliving its parents. The good news, given Leo's string of successful movies, long standing Hollywood career, and newly earned Oscar, there's a good chance he will be able to take care of his new companion for another 8+ decades.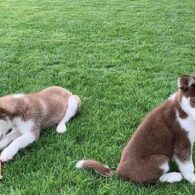 Jack and Jill
Leonardo DiCaprio has two dogs. They're rescued husky siblings named Jack and Jill. Leo and his then-girlfriend Camila Morrone were fostering them in March 2020 before adopting. The huskies made headlines in Dec 2021, when DiCaprio told a story to Entertainment Weekly about how he and Jonah Hill had to rescue both husky pups from a frozen lake. The first one fell into the lake, then as soon as he got the dog out, the other one jumped in. Then all three of them were in the lake together, but everyone got out safe.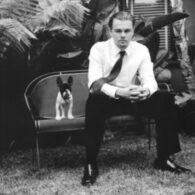 Django
Leonardo DiCaprio used to have a famous French bulldog named Django, like the Quentin Tarantino film Django Unchained (2012) he starred in with Jamie Foxx and Christoph Waltz. Django was (in)famous for being stinky and rumors said people wouldn't want to fly in DiCaprio's private jet at the time due to his Frenchie's farts. He picked up the pup in 2004, so we're assuming Django has since passed away.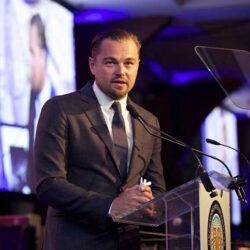 Birthday
November 11, 1974 (48)
Leondaro DiCaprio, born November 11, 1974, gained international fame after his role as Jack in Titanic (1997), and Kate Winslet as Rose DeWitt Bukater. Leonardo DiCaprio has had a long history of success in Hollyood. In 2016, DiCaprio won the Academy Award for Best Actor for his starring role in The Revenant. A short list of popular movies include: Inception, Wolf of Wall Street, The Beach, Shutter Island, Catch Me If You Can, The Department, and more. DiCaprio is the founder of his own production company, Appian Way Productions.
DiCaprio has received numerous awards throughout his career, including an Academy Award, a British Academy Film Award, a Screen Actors Guild Award, and three Golden Globe Awards. As of 2019, his films have grossed over $7.2 billion worldwide, and he has been placed eight times in annual rankings of the world's highest-paid actors.