 No Pets (Scott Patterson)
Scott Patterson does not have any reported pets.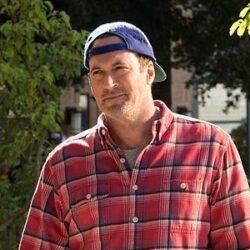 Birthday
September 11, 1958 (65)
Scott Patterson is an American actor and musician primarily recognized for his portrayal of Luke Danes in the iconic television series "Gilmore Girls." This role catapulted him to fame, with audiences around the world admiring his character's strong values and heartwarming relationship with Lorelai Gilmore.
Apart from "Gilmore Girls," Scott's versatility as an actor shines in various television series and films. He has been part of projects such as "The Event," "Aliens in America," and "Saw IV," "Saw V," and "Saw VI." Adding to his diverse talent pool, Patterson has a musical side. He's the frontman of the band Smithradio, which released its debut album, "Revolution," showcasing his proficiency in not just acting but music as well.
Over the years, Scott Patterson has collaborated with a myriad of artists, celebrities, and influential figures. Most notably, his recurring interactions with "Gilmore Girls" co-stars like Lauren Graham, Alexis Bledel, Kelly Bishop, and Jared Padalecki enhanced the essence of Stars Hollow. Furthermore, working with directors like Darren Lynn Bousman in the "Saw" series, or sharing screen space with actors such as Jason Ritter and Sarah Roemer in "The Event," or mingling with comedic talents like Adhir Kalyan and Dan Byrd in "Aliens in America" have enriched his repertoire.
As for distinctions and titles, Patterson's role in "Gilmore Girls" didn't go unnoticed. The cult following of the series translated to immense appreciation for the entire cast. Scott's portrayal of Luke earned him a Teen Choice Award nomination for TV – Choice Actor.