 No Pets (Steve Downes)
Steve Downes does not have any reported pets.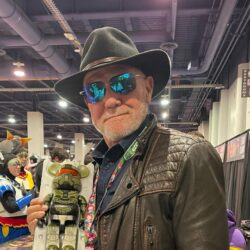 Birthday
June 28, 1950 (73)
Steve Downes is an American actor, predominantly recognized for his iconic role as the voice of Master Chief in the "Halo" video game series. Downes' magnetic voiceover work has become virtually synonymous with the beloved science fiction universe, lending an unforgettably deep and resonant quality to the Spartan super-soldier.
In addition to his work in the "Halo" series, Downes has amassed an impressive body of work in radio and voiceover. In the early years of his career, he was a disc jockey for various radio stations, including Los Angeles' KLOS and Chicago's WDRV "The Drive," where his distinctive voice earned him a devoted listener base. The transition from radio to video games was a defining point in Downes' career, demonstrating his capacity to command a presence not only on airwaves but also in the evolving world of interactive entertainment.
Downes' collaborations with other professionals in the field are notable. One of his most significant professional relationships has been with Jen Taylor, the voice actress behind Cortana in the "Halo" series. Their dynamic partnership has been a driving force behind the series' success. Other noteworthy collaborations include working with Joseph Staten, the writer and director for "Halo," Frank O'Connor, the franchise development director, and Marty O'Donnell, the composer for the "Halo" series. Downes has also collaborated with other voice actors in the industry such as Laura Bailey, Travis Willingham, and Keith David, among others.
Downes' work has indeed been recognized for its excellence. His portrayal of Master Chief in "Halo 4" was nominated for "Best Performance by a Human Male" at the 2012 Spike Video Game Awards.