Hobbs and Brutus
Dwayne Johnson currently has two rescue dogs. In September 2015, The Rock adopted two French Bulldogs – Hobbs (black and white) and Brutus (beige). Soon after adopting them both, Johnson had to save Brutus from drowning in his pool. Then sadly a few weeks later, Brutus passed away after eating a poisonous mushroom.
Johnson posted this tribute to Brutus on his Instagram, "Another reminder we have to live and love as greatly as we can today, because tomorrow is never guaranteed. At approximately 11:15pm last night myself and @laurenhashianofficial had to make the painful decision to end Brutus' suffering by taking him off of life support and sending his soul to pup heaven. I held his lil' paw as he was finally at peace. As all puppies and dogs do, he ate a mushroom while playing outside with his brother Hobbs. This mushroom happened to have a lethal toxicity and within hours it was rapidly destroying his liver and immune system to the point of no return. I encourage all of you out there to be mindful of mushrooms in your yards, parks or anywhere outside your dogs play. What looks innocent, can be deadly to your lil' family members. Thank you Dr. Deckelbaum and Dr. West and the incredibly caring nurses and staff at The Animal Medical Center At Cooper City. We'll always love you Brutus.. and you'll always be my lil' main man and rough housing Brute. RIPBrutus #WishICouldHaveSavedYouOneMoreTime #TheresPickUpTrucksInHeavenYouCanPeeIn"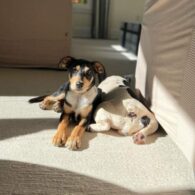 Turbo
Dwayne Johnson and his family picked up a dog named Turbo in July 2022 after his daughter Jasmine FaceTime'd him to ask for permission. He's seen here with the butt of The Rock's other dog, Hobbs. Johnson's wife, Lauren Hashian, posted their adoption story to her Instagram, "A few months ago, me and the girls were out painting at a little shop… when we left they both thought they smelled DONUTS and insisted we "follow our noses". Well our noses led us right past a dog adoption center and suddenly they forgot all about the donuts 🙂 we were NOT planning to get a dog but asked them if they had a puppy available we could at least see. This was the very first and ONLY pup they brought out… because it was love at first sight 🥰 We FaceTimed Dad. And the rest is history. "TURBO" is the greatest, most loving little guy we could've never expected or imagined. And he captured our hearts from second 1!!! He is the definition of a "SUPER PET". That's good timing for you! 🙏🏼❤️"
Dwayne Johnson (The Rock)
Dwayne Johnson is also known as 'The Rock' or Dwayne 'The Rock' Johnson. Johnson's charitable efforts are typically for human beings, however, in 2015, he donated $1,500 to pay for an abandoned dog's surgery. He's known for loving his tiny pups Brutus and Hobbs, the Frenchie brothers. Dwayne Johnson is a well-known professional wrestler and actor. He has won many awards for his work in action films and voice-acting for children's films.
History and Early Career
A Canadian-American, Dwayne Johnson is an actor, producer, and professional wrestler. Johnson gained national fame in the World Wrestling Federation (WWF/WWE) from 1996 to 2004 as a the personality "The Rock". Forbes listed him at No. 25 in the Top 100 Most Powerful Celebrities in 2013 and the world's highest-paid actor of 2016. His films have grossed over $3.5 billion in North America and over $10.5 billion worldwide, making him one of the world's highest-grossing and highest-paid actors.
Dwayne 'The Rock' Johnson's Film Career
His first major film role was in The Scorpion King (2002) which lead to leading roles in the comedies The Game Plan (2007), Tooth Fairy (2010), and Central Intelligence (2016); the action-adventure films Journey 2: The Mysterious Island (2012), G.I. Joe: Retaliation (2013), Hercules (2014), and Skyscraper (2018); the science-fiction films San Andreas (2015) and Rampage (2018), and the animated film Moana (2016).
Johnson also stars in the Jumanji films, appearing in Jumanji: Welcome to the Jungle (2017) and Jumanji: The Next Level (2019) with Jack Black, Emma Roberts, Nick Jonas, and Karen Gillan.
The Fast & Furious Franchise
Much of Dwayne Johnson's success in Hollywood came from playing Luke Hobbs in the Fast & Furious franchise. The series is Universal's biggest franchise as the seventh highest-grossing film series, with a combined gross of over $6 billion. Though the films often come with mixed or negative reviews, they are still both popular and commercially successful.
In the Fast & Furious franchise, Dwayne Johnson plays Luke Hobbs — a character he loved so much he named one of his French Bulldogs 'Hobbs'. Hobbs the dog even had a cameo in Fast & Furious Presents: Hobbs & Shaw. Johnson describes Hobbs' acting as "Professional, unlike his owner."
Johnson acts alongside big names like Vin Diesel, Jordana Brewster, Eva Mendes, Scott Eastwood, Ludacris, Jason Statham, and Paul Walker in the Fast & Furious franchise. Paul Walker was also a known animal lover prior to his tragic death in 2013.
Though Dwayne Johnson does not often talk about his close friendship with Paul Walker often, he did make a public post about him on the actor's 46th birthday, it read: "I never post about my friend. Personal thing, but I prefer to keep our memories and bond private and quiet. But something about today compelled me as a moving reminder of how fragile life is for all of us. It's Paul's birthday and rightfully so, his legacy celebrated around the world. Our friendship was bonded over our daughters, Meadow & Simone and the pride and protection we took being their fathers. And recently, I got a scare when I almost lost another friend on the road. All this stuff got me thinking about how beautiful, yet wildly unpredictable life is. We never know what's around the corner, so we gotta live as greatly as we can in the honor of our loved ones and ancestors who are no longer with us. Manuia le aso fanau, my friend."
Dwayne Johnson Controversy with Animal Rights Groups
We wonder if The Rock regrets his family trip to the Georgia Aquarium. The photos look great and we think his family had a good time, however, animal rights activists were very upset. One user sums up the general vibe nicely with the comment "Animal cruelty and captivity should not be supported, let alone promoted. I thought you were a man of principles whose views would be against such concepts."
The Rock posed with a beluga and a seal during the trip — calling the beluga his "next co-star." Unfortunately, in 2016, In Defense of Animals ranked the Georgia Aquarium as the fourth worst tank for dolphins and whales. Since then, the Georgia Aquarium has been acclaimed for it's conservation efforts. Dwayne Johnson thanked the staff for taking great care of the animals.
The Rock's Farm
Did you know Dwayne Johnson owns a farm? Well, he does. It's a beautiful, sprawling Virginia equestrian estate worth 9.5 million dollars. Johnson's family farm has an eight-bedroom mansion and a 150-year-old caretaker's cottage and comes with a 12-stall horse barn.
The actor bought the farm in 2019 and in 2021 put it up for sale for 2 million dollars less than he bought it for. Perhaps he got tired of the "gifts" the horses kept leaving him to step in.