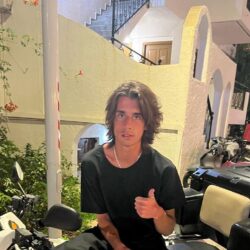 Birthday
May 26, 2001 (22)
Georgie Bleu Farmer is a British actor best known for his roles in the Disney Channel series The Evermoor Chronicles and Tim Burton's Netflix series Wednesday.
Georgie Farmer's early foray into acting saw him appear in the music video for Jessie J's "Who's Laughing Now" and a stage role in Rest Upon the Wind at London's Tristan Bates Theatre and Liverpool's Unity Theatre. Farmer also featured in the CBBC series The Ministry of Curious Stuff. However, it was his role as Jake Crossley in The Evermoor Chronicles from 2014 to 2017 that gave him more substantial recognition. He further diversified his portfolio with a minor role in Steven Spielberg's Ready Player One and a voice role in Andy Serkis' Mowgli: Legend of the Jungle, both in 2018. In 2020, he was seen in the short film Of Wolves and Lambs and the stage production For the Sake of Argument at Bridewell Theatre.
Over the years, Farmer has collaborated with a variety of professionals in the entertainment industry. In the Evermoor Chronicles, he worked with actors such as Naomi Sequeira, Jordan Loughran, and George Sear. In Ready Player One, he shared the screen with Tye Sheridan and Olivia Cooke. His voice role in Mowgli: Legend of the Jungle had him in the company of Christian Bale and Cate Blanchett. Farmer also appeared alongside his own brother, Harry, in Of Wolves and Lambs. His role in Wednesday has him collaborating with Jenna Ortega, who plays the title character, and Catherine Zeta-Jones. On stage, he performed in Emil and the Detectives at the Royal National Theatre, a production that included actors like Ethan Hammer and Daniel Patten. In For the Sake of Argument, he shared the stage with Maria Teresa Creasey and Henry Gilbert.
Farmer's role in The Evermoor Chronicles contributed to the series garnering a British Screenwriters' Award for Best Children's Programme.