 Carol, Fletcher, and Egg
Cate Blanchett has three dogs named Carol, Fletcher and Egg. Fletcher is a black labrador. Carol is a beagle named after her character in the 2015 film Carol. Warwick
Cate Blanchett has a Tonkinese cat named Warwick. Benson and Hedges
Cate Blanchett has two pet pigs named Benson and Hedges, which we guess are named after the British cigarette brand. Blanchett is a vegetarian and her husband wanted pet pigs, so Blanchett agreed as she thought it would help persuade her kids to be vegetarians as well. The plan failed as she said her kids didn't mind the fact that bacon and sausages came from pigs just like their pet pigs.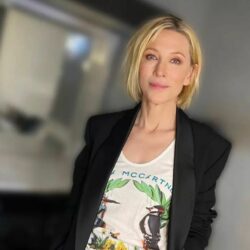 Birthday
May 14, 1969 (53)
Catherine Elise "Cate" Blanchett is an Australian actress. She is best known for her critical acclaim, winning two Academy Awards, three Golden Globes, three BAFTA Awards, three SAG Awards and many more. She developed an interest in acting in college, moving on to study economics and performing arts at university. She dropped out to travel for a year and after joined and graduated from the National Institute of Dramatic Art.
She started her acting career in theater, with her first major stage role in Oleanna with Geoffrey Rush for the Sydney Theater Company. After several major film roles in the mid and late 1990s, she gained international acclaim for playing the lead in the 1998 film Elizabeth. This role won her a Golden Globe and BAFTA award. In 2005, she won her first Oscar for best supporting actress in Martin Scorsese's The Aviator, which costarred Leonardo DiCaprio and Kate Beckinsale. Her most recent major role is in Thor: Ragnarok with Chris Hemsworth and Tom Hiddleston.