Congrats on making it through that article title! Now here's the story of how a duck became a substitute for a dog, then became a surfer, then ended up winning a dog pageant… But does that mean the duck is no longer allowed at the no-dogs beach? We'll be sure to update you as this rollercoaster of a story progresses.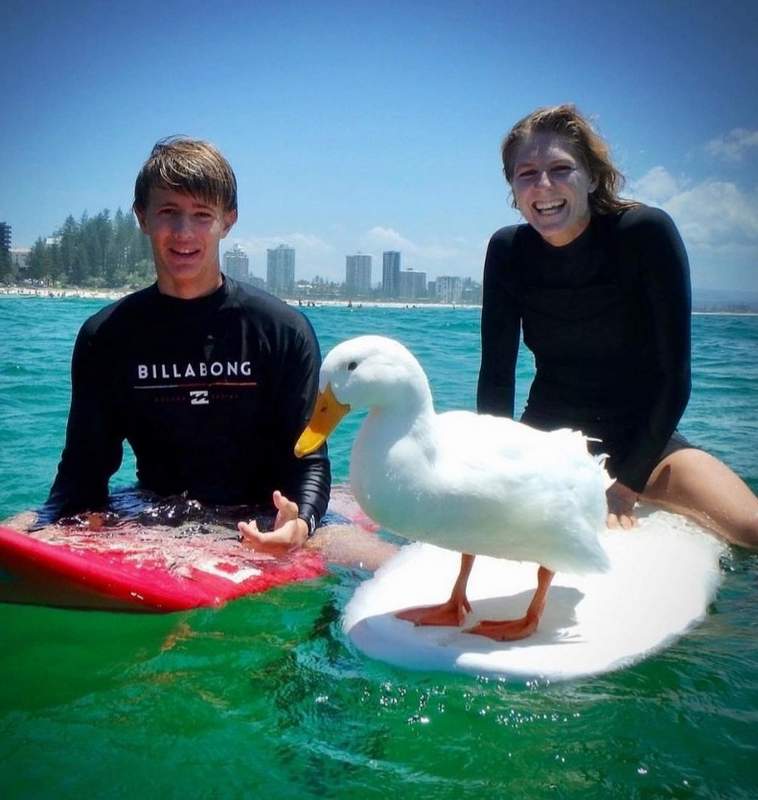 The duck named "Duck," also known as the Rainbow Bay Duck, is a duck who resides in Rainbow Bay on Australia's Gold Coast. And Duck just won the Gold Coast Pride Festival's annual rainbow doggy pageant. Yes I'm just as confused writing that as you are reading it.
Duck's story starts when he first went viral in early 2021. His human Kate Miller and her human child Tom both frequent their local beach at Rainbow Bay. Sadly, the beach stopped allowing dogs. But Miller figured they couldn't stop her from bringing a pet duck to the beach! But note Miller has had several pet ducks over the years and says house and toilet training a duck is a huge amount of work. So don't think you can just easily get your ducks in a row and catch a wave. Duck has got enough surf cred, he was even featured in the Olympic surfing video below:
And if you're for some reason wondering if Duck, being a duck, is scared of water? Don't worry, a commenter already asked on that video:

In June 2023, the annual Gold Coast Pride Festival took place nearby, which included their rainbow doggy pageant. Contestants are usually canines and not waterfowl, but Duck, clearly confident from his 2-year hot streak, felt up for the challenge. The winner is decided by whoever the crowd cheers the loudest…
And after Duck's historic win, the dog pageant will now be the species-inclusive Gold Coast Pride Pet Pageant! So thanks to Duck's winning attitude, the festival will see a diverse range of pets competing next year!
Make sure to follow @rainbowduck on Instagram. And if you enjoyed this article but wished the duck was longer, check out Long Boi – A Really Really Long Duck.
Oh, almost forgot, Duck can apparently also drive a car.