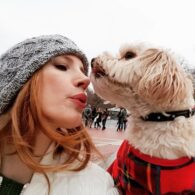 Chaplin
Chaplin is a poodle mutt rescue adopted by Jessica Chastain. Making appearances in studios, television show The View, Broadway photoshoots, and the Golden Globes, Chaplin has made done his time in front of the camera. Jessica Chastain also boasts her pup is faster than most dogs at catching the ball, which is remarkable since the little critter has three legs after getting into a car accident before he was adopted. Radley and Roman
Jessica has two other rescue dogs, but they aren't famous like Chaplain is. Radley is a corgi-spaniel mix and Roman is a chihuahua mix.
Birthday
March 24, 1977 (46)
Jessica Michelle Chastain is an American actress and the founder of the production company Freckle Films. She became interested in acting at seven years old after her grandmother took her to a theater production. After participating in drama during high school, she started working professionally in theater. Her first stage appearance as Juliet in Romeo and Juliet led to audition for the Juilliard School in New York City, where she won a scholarship grant.
After graduating, she moved to Los Angeles and was signed to a talent agent to work on TV shows. This led to her appearing in small roles on TV through the 2000s, along with theater productions. Her feature film debut came in 2009, playing the lead in Jolene. From her supporting role in Help (2011) she was nominated for an Oscar, Golden Globe, BAFTA and SAG ward. Starring in Zero Dark Thirty (2012), she won a Golden Globe for Best Actress in a Drama, along with Oscar, BAFTA and SAG nominations.