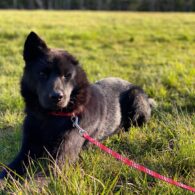 Kanga (Dog)
Though Kanga isn't directly owned by Margo, this rescue dog became a part of her family when her daughter adopted the pup in May 2020 from A Pups Pizzazz Rescue.
Birthday
July 18, 1951 (72)
Margo Martindale is an American actress, particularly celebrated for her character-driven roles in television series such as "Justified" and "The Americans."
Martindale's work spans a wide range of genres and mediums. She gained recognition through key roles in films like "Million Dollar Baby" and "August: Osage County," while her television credits also include "Dexter," "Sneaky Pete," and "BoJack Horseman," where she lent her voice to a character cheekily named after herself.
In her career, Martindale has shared the screen and worked with a plethora of notable artists. Collaborations include the likes of Clint Eastwood, who directed "Million Dollar Baby"; Julia Roberts and Meryl Streep in "August: Osage County"; Walton Goggins in "Justified"; Keri Russell and Matthew Rhys in "The Americans"; Giovanni Ribisi in "Sneaky Pete"; Michael C. Hall in "Dexter"; Tracey Ullman in "The Big C"; Will Arnett in "BoJack Horseman"; Ann Dowd in "Claudine"; and Susan Sarandon in "Lorenzo's Oil."
Martindale has been the recipient of several prestigious awards that highlight her acting chops. She won a Primetime Emmy Award for Outstanding Supporting Actress in a Drama Series for her role in "Justified," and another Primetime Emmy Award for her role in "The Americans." She was also honored with a Critics' Choice Television Award for Best Guest Performer in a Drama Series for her role in "The Good Wife."