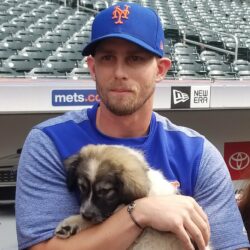 Birthday
April 8, 1992 (30)
Jeff McNeil, nicknamed "Squirrel" or "Flying Squirrel", is an American professional baseball utility player for the New York Mets of Major League Baseball (MLB). Born and raised in California, McNeil played baseball at Long Beach State University before being drafted by the Mets in 2013. He made his Major League Baseball debut in 2018 and quickly established himself as a versatile and reliable player.
One of McNeil's breakout roles came in the 2019 season, where he was named an All-Star and finished the year with a .318 batting average, 23 home runs, and 75 runs batted in. McNeil's ability to hit for both power and average, as well as his versatility in playing multiple positions, has made him a valuable asset to the Mets.
While McNeil's success on the baseball diamond is undoubtedly impressive, he has also had the opportunity to collaborate with a number of celebrities and influential people throughout his career. In 2019, McNeil had the chance to work with comedian and actor Jerry Seinfeld, who is a longtime Mets fan. Seinfeld interviewed McNeil for an episode of his Netflix series "Comedians in Cars Getting Coffee," where the two discussed McNeil's baseball career and his love for dogs.
McNeil's passion for animals is well-known, and he has used his platform as a professional athlete to advocate for animal welfare. In 2019, McNeil hosted a "Bark at the Park" event at Citi Field, where fans were invited to bring their dogs to the stadium for a game. The event raised money for animal non-profit organizations and helped to raise awareness about the importance of pet adoption.
Another milestone in McNeil's career came in 2020, when he was featured in a documentary series called "The 5th Quarter." The series, which was produced by McNeil's agent, focused on the lives and careers of professional athletes outside of the game. McNeil's episode delved into his love for dogs and his work with animal non-profit organizations.