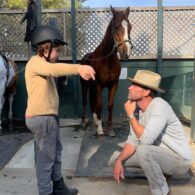 Horses
Walton Goggins does not have any reported pets but he is often seen horseback riding for both work and in his spare time. He mentioned in a 2021 Instagram post that he grew up with them.
Walton Goggins' passion for horseback riding traces back to his childhood, inspired by his barrel racer mom who introduced him to the joy of riding at age five. Although his son started riding four years ago, it was only recently that the two had their inaugural ride together. During this memorable outing, they took turns leading and concluded the experience by enjoying a casual walk and talk. Goggins credits this significant day to @summer_lbf and Robin for accommodating him in the ride, marking it as a special chapter in his ongoing love affair with horseback riding.
Birthday
November 10, 1971 (51)
Walton Goggins is an American actor prominently known for his compelling roles in television dramas such as "Justified" and "The Shield," as well as films like "The Hateful Eight."
Goggins's body of work in both film and television is extensive and diversified. He gained widespread recognition for his role as Detective Shane Vendrell in "The Shield" (2002–2008). This was followed by another critically acclaimed television performance as Boyd Crowder in the FX series "Justified" (2010–2015). On the silver screen, he played significant roles in films like Quentin Tarantino's "The Hateful Eight" (2015) and "Django Unchained" (2012), as well as a memorable turn in the Marvel Universe as Sonny Burch in "Ant-Man and the Wasp" (2018).
Goggins's career is rich with significant team-ups that have added layers to his talent. Among the noteworthy individuals he has worked with are Quentin Tarantino, a collaboration that resulted in "The Hateful Eight" and "Django Unchained"; Timothy Olyphant in "Justified"; Michael Chiklis in "The Shield"; and Kevin Costner in "The Hatfields and McCoys." Additionally, he's acted alongside Samuel L. Jackson, Kurt Russell, Jamie Foxx, Bruce Dern, Christoph Waltz, Alicia Vikander, Paul Rudd, and Evangeline Lilly.
Goggins has been the recipient of various honors that validate his immense talent. For his role in "Justified," he was nominated for a Primetime Emmy Award in 2011. Meanwhile, his ensemble work in "The Shield" earned him a Television Critics Association Award. He was also bestowed with a Critics' Choice Television Award for his role in the HBO dark comedy "Vice Principals" (2016–2017).