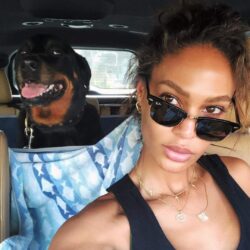 Birthday
July 11, 1988 (34)
Joan Smalls is a Puerto Rican model who has become one of the most sought-after models in the fashion industry. Smalls began her career in 2007 after signing with a modeling agency in New York City, and since then, she has made a significant impact on the fashion world.
Smalls has worked with some of the biggest names in the industry, including Victoria's Secret, Chanel, and Gucci. She has also graced the covers of numerous magazines, such as Vogue, Elle, and Harper's Bazaar, and has been featured in campaigns for major fashion brands like Givenchy, H&M, and Estée Lauder.
Throughout her career, Smalls has also collaborated with a variety of artists, athletes, and celebrities. She has worked with rapper and fashion designer Kanye West on his Yeezy fashion line and has appeared in music videos for artists such as Beyoncé and David Guetta. Additionally, she has been associated with fellow models and activists, such as Gigi Hadid and Adwoa Aboah.
Aside from her modeling work, Smalls is also an advocate for diversity and inclusion in the fashion industry. She has spoken out about the lack of representation for models of color and has used her platform to bring attention to the issue. In 2015, she was named one of Time magazine's 100 most influential people in the world for her advocacy work.