 No Pets (Geno Smith)
Geno Smith does not have any reported pets.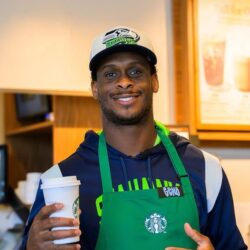 Birthday
October 10, 1990 (33)
Eugene Cyril Smith III, known as Geno Smith, is an American football quarterback for the Seattle Seahawks of the National Football League (NFL). A standout at West Virginia University, Smith led the Mountaineers to multiple bowl games and shattered numerous passing records. His collegiate success led to his selection by the New York Jets in the second round of the 2013 NFL Draft.
Smith's early professional years were marked by a starting role with the Jets, though his tenure was marred by inconsistency and injuries. After serving as a backup for the New York Giants and Los Angeles Chargers, Smith experienced a career revival with the Seahawks in 2022. His resurgence was highlighted by a Pro Bowl selection, a winning record, a playoff berth, leading the league in completion percentage, and earning the Comeback Player of the Year award.
Smith's career has been enriched by his associations with a host of influential figures. On the field, his synergy with players like Brandon Marshall and Richard Sherman has been notable. Off the field, his interactions with sports icons such as Michael Strahan and commentators like Tony Romo have further distinguished his career.
Throughout his career, Smith has been recognized with several honors. He was named to the All-Big East Conference teams in 2010 and 2011, earned the title of Big East Offensive Player of the Week four times, and was celebrated as the Most Valuable Player of the 2012 Orange Bowl. His professional accolades include being named the NFL Comeback Player of the Year for the 2022–23 season.