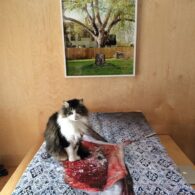 Melmon (Cat)
Melmon was 6 months when Justin Vernon rescued her from an animal shelter. She lives at the converted veterinary clinic which serves as Bon Ivers recording studio. Melmo and her sister Flo like to hunt outside and play with iPads in their downtime. The felines were inspiration for a salmon coloured cruelty-free sneaker. The shoe had herringbone accents and a black fishbone design.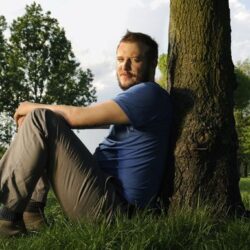 Birthday
April 30, 1981 (42)
Justin Vernon is the frontman for Bon Iver. The band was born in a Wisconsin Veterinary Clinic converted into a recording studio. Bon Iver first came into the spotlight with the album For Emma, Forever Ago. They have since won Best New Artist and Best Alternative Album at the 2012 Grammys and released their third album 22, A million in 2016.
Justin Vernon has also collaborated with other musicians, including Kanye West on his 2010 album My Beautiful Dark Fantasy, the song "That's My Bitch" with West and Jay-Z and West's 2013 album Yeezus. Justin has also collaborated on some feline-inspired footwear with Keep Company apparel. Proceeds from the cruelty-free sneakers are used to help benefit animals in need. Vernon has a reported net worth of $5 million.