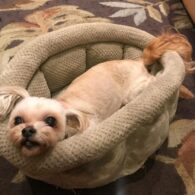 Zora (Dog)
Sheryl Lee Ralph used to have a rescue dog named Zora. Sadly, Zora passed away in May 2019. Ralph posted to her Facebook page, "I adopted a #rescuedog from a no kill shelter when I wrapped my Broadway run in @wicked_musical and she was the most perfect little companion. She had a heart murmur and went into heart failure and died. As she struggled to breath in the middle of the night we found @mashvet a24hour animal hospital and they couldn't have been kinder and more caring. Thank you. Love is a four legged word today. RIP Zora😢"
Sheryl Lee Ralph is an American actress, singer, director, and activist. She is best known for her roles in hit Broadway shows such as Dreamgirls and Jelly's Last Jam, as well as her work in film and television.
Ralph's breakthrough role came in 1981 when she originated the role of Deena Jones in the original Broadway production of Dreamgirls. Her performance earned her a Tony Award nomination and established her as a rising star in the theater world.
One of Ralph's most significant milestones in her career was her work as a producer and creator of the hit Broadway musical, Thoroughly Modern Millie, which won multiple Tony Awards in 2002. She has also produced numerous other theater productions, including the off-Broadway show Mighty Real: A Fabulous Sylvester Musical.
Throughout her career, Ralph has starred in numerous film and television productions, including Sister Act 2: Back in the Habit, The Mighty Quinn, and Moesha. She has also been a frequent guest star on popular television shows such as It's a Living, Ray Donovan, and Claws.
Sheryl Lee Ralph's role on the hit sitcom Abbot Elementary is a testament to her versatility as an actress. She plays Ms. Carson, the no-nonsense principal of the fictional Philadelphia school, who often clashes with the show's quirky and unpredictable staff. The popular show also included Quinta Brunson, Tyler James Williams, Janelle James, Lisa Ann Walter, Sheryl Lee Ralph, William Stanford Davis and Chris Perfetti.
Ralph has collaborated with a wide range of notable artists and celebrities throughout her career. She has worked with legendary musicians like Diana Ross, Luther Vandross, and Whitney Houston. She has also appeared in films and television shows with stars such as Denzel Washington, Angela Bassett, and Halle Berry.