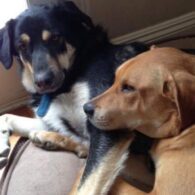 Buster and Steve
Actress and comedian Lisa Ann Walter adopted two rescue dogs named Buster and Steve. Steve, the beige pup, sadly passed away in August, 2021. Walter posted this tribute to him on Instagram, "Steve you were the best boy. The twins named you for @steveoedekerk – and you were appropriately goofy, charming & lovable af. Sleeping on your back – all four legs splayed straight out – you earned the name known to all @kfiam640 "babies": #SteveTheWonderslut
You made me laugh.
You rubbed your body along the side of the couch to scratch it, like a cat.
You ate any and all things you could fit in your mouth – like a goat.
You sat on my lap every morning like you were a tiny dog, getting all the pats and upside-down head scratches – just like the first day you were brought home by @elaine4animals – when you ran straight in the front door, sat right on my lap and peed.
You found a beddy you loved under my green chair – and even when you got too big to fit your whole body under there, you still scrabbled the front half underneath so you could sleep in your little self-made cave.
You only barked at the gardener's trimming tool and squirrels, rats & coyotes.
You were your own guy.
I will miss you so much
Love you, Steven.
.
.
.
I forgot these tidbits:
Anyone who stepped foot in my house would get rammed in the crotch by Mr. Molesty-Nose.
.
HE ATE AN ENTIRE PAIR OF SKI GOGGLES. ATE THEM.
.
You'd stare very suspiciously at the ceiling in my room at bedtime – i think you saw ghosts."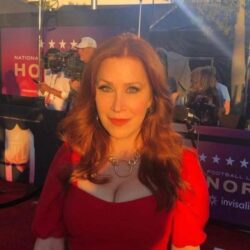 Birthday
August 3, 1963 (59)
Lisa Ann Walter is an American actress, comedian, writer, and producer. She began her career as a stand-up comedian in the 1980s, appearing on The Tonight Show Starring Johnny Carson and Late Night with David Letterman. She has since become known for her roles in films such as Bruce Almighty, The Parent Trap, and The Banger Sisters. She also wrote, produced, and starred in the 2008 comedy film, The Savages. Walter has also appeared in several television series, including Step by Step and Criminal Minds. Most recently she's known for starring in the ABC sitcom Abbot Elementary, alongside Quinta Brunson, Tyler James Williams, Janelle James, Chris Perfetti, Sheryl Lee Ralph, and William Stanford Davis.