 No Pets (Willie McGinest)
Willie McGinest does not have any reported pets.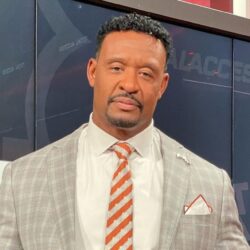 Birthday
December 11, 1971 (52)
Willie McGinest is a former American professional football player who enjoyed a celebrated career in the National Football League (NFL) primarily with the New England Patriots and the Cleveland Browns. He was an indispensable player in the linebacker position and played a critical role in the Patriots' defense.
McGinest's role on the Patriots' defense was notable for its flexibility, where he often switched from an outside linebacker to a defensive end depending on game situations. He holds the NFL postseason record for most career sacks, showcasing his capability as a pass-rusher. McGinest was also known for his ability to perform during critical moments, like his legendary stop of the Colts' Edgerrin James in the 2003 AFC Championship Game, which many consider one of the most memorable plays in postseason history.
Throughout his career, Willie McGinest collaborated with a variety of prominent figures in the world of sports. Within the New England Patriots, he shared the field with Tom Brady, Tedy Bruschi, Richard Seymour, Rodney Harrison, Ty Law, Adam Vinatieri, Mike Vrabel, Troy Brown, and Lawyer Milloy. Off the field, McGinest has worked closely with high-profile individuals like Robert Kraft, the Patriots' owner, and Bill Belichick, the team's head coach, who has often spoken highly of McGinest's contributions to the team.
McGinest's career is marked by several significant achievements. He is a three-time Super Bowl champion, having won titles in the 2001, 2003, and 2004 seasons with the Patriots. He was selected to the Pro Bowl twice and was named an All-Pro in 1999. Perhaps most impressively, McGinest is in the New England Patriots All-Dynasty Team and has been inducted into the Patriots Hall of Fame, confirming his legacy as one of the team's all-time greats.