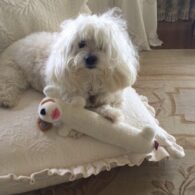 Samantha
Samantha was Barbra Streisand's beloved Coton de Tulear who passed away in 2017 after 14 years. She loved Samantha so much, she made several clones of her in 2018, with each costing up to $100,000 each. Read the full article on her clone puppies here.
Miss Fanny
Miss Fanny is a cousin of her late dog Samantha. A breeder bought the dog and named her "Funny Girl". She was up for adoption and Streisand loved her and her name (as it's the name of her iconic Broadway show and film Funny Girl). She renamed her Miss Fanny, after her character's name in the film.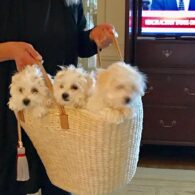 Miss Violet and Miss Scarlet
Miss Violet and Miss Scarlet are two of five dogs cloned from Barbra Streisand's late dog, Samantha. Click here for the full story on them.
Barbara Joan "Barbra" Streisand (born April 24, 1942) is an American actress, singer and performing artist with an estimated net worth of $390 million. Her successful career continues after 60 years, earning her dozens of awards for acting and music, including two Academy Awards, 10 Grammy Awards, 9 Golden Globes and several lifetime achievement awards. She is also one of the highest-selling recording artists of all time, with over 150 million albums and singles sold worldwide.
Growing up in poverty with her mother, she left home after graduating from school in 1959. Her ambition and natural talent got her a strong start in musical theater. One of her most iconic film roles was her first, with the film version of her Broadway hit Funny Girl (1968). This lead to countless theater performances, albums and feature films. Her success continued through the years and continues today. Forbes named her the no. 2 earning female musician in 2008 with $60 million.