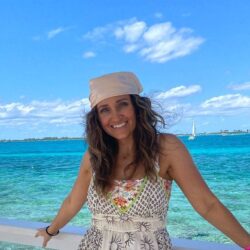 Birthday
June 24, 1979 (44)
Mindy McKnight is the mastermind behind the YouTube channel Cute Girls Hairstyles, where she gained fame for her unique and innovative hair-styling techniques.
Since launching her YouTube channel in 2009, McKnight's transformative approach to hair has attracted millions of followers. She's not only a content creator but a creative artist who transforms ordinary locks into works of art. From simple braids to intricate woven designs, her work has made her a household name in the beauty industry. Her tutorials on "The Waterfall Braid" and "The Bow Braid" have become viral sensations, with many recreating these styles across the globe.
Collaboration has been a key to McKnight's success, as she has worked with a wide range of celebrities and influencers. She has teamed up with individuals like Lilly Singh, Brooklyn & Bailey McKnight (her daughters), Kamri Noel Mcknight (her daughter), Rosanna Pansino, Justine Ezarik (iJustine), Stuart Edge, Cassie Hollister, Jordan Matter, and several Disney Channel stars.
Mindy's journey has been adorned with numerous distinctions and titles. Her channel's triumph is highlighted by a Shorty Award for "Best in Beauty." Her collaboration with Disney's "Frozen" led to a video that amassed over a hundred million views. She was also featured on Forbes' Top Influencers List in the beauty category in 2017.