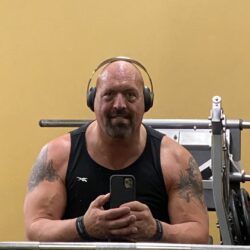 Birthday
February 8, 1972 (51)
Paul Wight, commonly known by his ring name Big Show, is an American professional wrestler and actor, who gained fame in World Wrestling Entertainment (WWE) and transitioned to film and television roles. Best known for his imposing physique, he has carved a space for himself not just in the wrestling ring but also on screen.
When it comes to his filmography, Wight's acting career saw a versatile range of characters. He made his film debut with "Reggie's Prayer" in 1996 and appeared in several movies like "Jingle All The Way," "The Waterboy," and "Little Hercules in 3D." On the small screen, he starred in his own Netflix comedy-drama show called "The Big Show Show," which received favorable reviews. Apart from these, he has made guest appearances on shows like "Burn Notice," "Royal Pains," and "Psych."
Over the years, Wight has rubbed shoulders with a plethora of celebrities and industry greats. He worked alongside Adam Sandler in "The Waterboy" and Arnold Schwarzenegger in "Jingle All The Way." In wrestling, his collaborations include riveting storylines with legends such as Stone Cold Steve Austin, Triple H, The Rock, John Cena, Brock Lesnar, The Undertaker, and Kurt Angle, to name a few. His crossover appeal even landed him appearances on shows hosted by late-night TV personalities like Conan O'Brien and Jimmy Kimmel.
Wight's career has not been without its fair share of honors and distinctions. In wrestling, he is a seven-time world champion, having won the WWE Championship, WCW World Heavyweight Championship, and ECW World Championship among others. Additionally, he is a Grand Slam Champion, an achievement few in the wrestling world can claim.