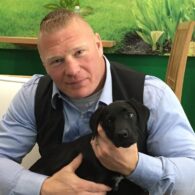 Black Lab (Brock Lesner)
Turns out the giant 300lbs, 6'4" WWE champ is a dog person. In between taking down other large athletes in the ring or the UFC octagon, Lesner is out playing with his dogs. In an ESPN interview, Brock was found feeding, and eating, dog treats with his puppy.
Brock Lesner, born July 12, 1977, is an American professional wrestler signed to the WWE, mixed martial artist. He is a four-time WWE champion, a former UFC Heavyweight Champion, and a NCAA Division I Heavyweight Wrestling Champion. He is well known to be one of the largest wrestlers to-date weighing over 300lbs and standing 6'4". In 2006, Lesner began his mixed martial arts (MMA) career in a fight against Min-Soo Kim, in June 2007. He was recently featured in UFC 200 vs. Matt Hunt. Lesner is married to Sable from WWE.