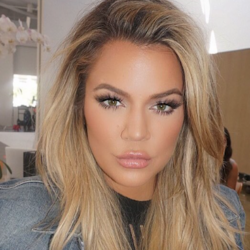 Birthday
June 27, 1984 (39)
Khloé Alexandra Kardashian is best known by her first and last name, Khloe Kardashian. She once took part in PETA's I'd rather go naked campaign in 2008, posing nude to promote not wearing fur. The socialite is known to like dogs, with Khloe Kardashian's Bernard one of the most famous. She's known for being a Kardashian, becoming a common household name following the reality hit show Keeping up with the Kardashian's.
Khloe Kardashian was born June 27, 1984 and is worth an estimated $20 million. Her famous Kardashian family includes sisters Kim Kardashian and Kourtney Kardashian, and half-sisters Kendall Jenner, Kylie Jenner, and niece Penelope Scotland Disick. She entered the public spotlight in 2007 through the long-running reality show Keeping Up With the Kardashians. This led to two spinoff shows, on with a sister called Kourtney and Khloe Take Miami and one with her ex-husband called Khloe and Lamar. These shows were followed up with Kourtney and Khloe Take the Hamptons in 2014. She currently hosts a variety talk show called Kocktails with Khloe.
Collaborations & Career
Khloe Kardashian has dabbled in the beauty industry much like her sisters. She has collaborated with brands like Shein and Ipsy.
Famous Pets
Like her sisters, Khloe has had a fair share of pets. Notably, the TV-personality and her ex, Lamar Odom once had a boxer named Bernard, but he was given to a friend when the couple broke up in 2013. Khloe Kardashian's dogs included longtime canine Gabbana, who passed in 2018. Following the dog's tragic death, her mom Kris Jenner surprised Khloe with three puppies for her birthday in June 2019. Khloe said the timing wasn't right, however, and found the dogs other homes.
Khloe Kardashian famously once had a peacock named Peter Pan (Petey for short). The peacock had wandered into the right backyard and gotten adopted by the Kardashian family. Upon selling her home, Petey stayed, and became an addition to the new home owner and animal-loving actress Kaley Cuoco's family.