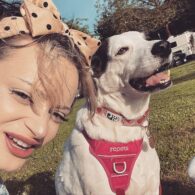 Betty (Dog)
Ruth Codd's dog Betty is quite the character with nicknames ranging from Miss Waggy Butt to Stanky Breath. This vocal canine has an array of hobbies, mainly focused on barking—at kids, adults, and even bikes. When she's not being a neighborhood alarm system, she enjoys watching the Discovery Channel. Skill-wise, Betty excels at digging and receiving pats, but don't expect her to bring the ball back during fetch. Despite her three functional legs, she's a pro at zoomies. However, her kryptonite is getting sprayed by skunks, turning the apartment into a stink bomb for weeks.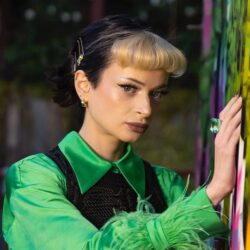 Ruth Codd is an Irish actress notable for her role as Anya in the Netflix series The Midnight Club. Prior to stepping into the limelight as an actress, Codd had a diverse career as a professional make-up artist and barber. Her life took a dramatic turn during the COVID-19 pandemic when she lost her job and transitioned to TikTok, amassing over 672,000 followers and 20.5 million likes in just one year. Her initial foray into TikTok involved comedic nun videos, which later evolved into disability awareness content.
After losing her job, Codd found an unexpected avenue into acting when she was discovered by the casting team of The Midnight Club through her TikTok videos. Interestingly, Codd deleted her TikTok account after securing her role in the series. Despite having no prior acting experience, she managed to captivate audiences as Anya. This initial success led to her casting in another Netflix series, The Fall of the House of Usher, by The Midnight Club's co-creator and showrunner, Mike Flanagan.
In 2023, Ruth Codd starred in the American gothic horror drama television miniseries "The Fall of the House of Usher" as Juno Usher. The series was created by Mike Flanagan. Loosely based on the short story of the same name and other works by Edgar Allan Poe, it premiered on Netflix on October 12, 2023. his costars included Sauriyan Sapkota, Samantha Sloyan, Kate Siegel, Rahul Kohli, Willa Fitzgerald, Mary McDonnell, Mark Hamill, Bruce Greenwood, and Carla Gugino.
Throughout her career, Ruth Codd has collaborated with numerous celebrities and industry professionals. Notably, Mike Flanagan, the creator of both The Midnight Club and The Fall of the House of Usher, has played a pivotal role in her acting career. She has worked alongside fellow actors such as Victoria Pedretti, and Henry Thomas in The Midnight Club, creating a network of respected peers. Moreover, her role in Creepshow allowed her to work with Anna Camp, Keith David, and Adam Pally. On top of that, she has collaborated with producers Trevor Macy and Darryl Frank, as well as cinematographers like Michael Fimognari and James Kniest.