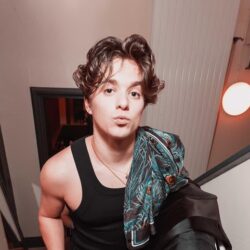 Birthday
July 28, 1995 (28)
Bradley Simpson is an English musician best known as the lead vocalist and guitarist for the British pop rock band, The Vamps. Emerging on the music scene in 2012, Simpson quickly became a figure of interest within the industry due to his distinctive voice and keen songwriting abilities, helping to propel The Vamps to international fame.
Simpson, along with The Vamps, has been at the forefront of several successful albums that have resonated with fans across the globe. Their debut album, "Meet the Vamps," released in 2014, reached multi-platinum status in several countries and secured their position as a force within the pop rock genre. Subsequent albums, including "Wake Up" (2015) and "Night & Day" (2017), showcased Simpson's musical growth and solidified The Vamps' presence in the international music scene.
Over the course of his career, Simpson has collaborated with numerous artists, bringing a unique blend of styles to his music. These collaborations span a wide array of talents, including pop icons Demi Lovato and Shawn Mendes, acclaimed producer Martin Jensen, talented songstress Maggie Lindemann, and the celebrated Norwegian DJ Matoma, among others. Additionally, his collaboration with Australian pop duo, Ollie Gabriel and Sabrina Carpenter, and the British band New Hope Club.
The Vamps, under Simpson's lead, secured the UK's Radio 1 Teen Award for Best British Group in 2014. In the following years, the group went on to win a multitude of awards, such as the Teen Choice Award for Choice Music: Next Big Thing in 2014 and the BBC Radio 1 Teen Award for Best British Group again in 2015. These honors served to validate the band's work and Simpson's influence in the music industry.