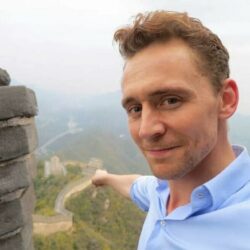 Birthday
February 9, 1981 (42)
Thomas William Hiddleston is also known as Tom Hiddleston. He once donated Gucci sneakers to the #xupesxwahf auction which benefits the Wild At Heart Foundation. Tom Hiddleston has one semi-famous pooch named Bobby. He gained fame from his role as Loki in Thor. He has since proven himself to be a talented actor and has won both a Golden Globe Award and a Laurence Olivier Award.
Tom Hiddleston's Career
After joining a theater production at Cambridge University, he decided continue his studies in dramatic art. In the early 2000s while acting in school theater, he started getting small roles in TV productions. After graduating in 2006, he got his first film role in Unrelated. Next he landed leading roles in two theater productions, with his performance in Shakespeare's Cymbeline in 2007 winning him the Laurence Olivier Award for Best Newcomer in a Play. The late 200s saw him in many BBC TV shows and doing voice over work.
His big break came when Kenneth Branagh, a director he worked with previously, was set to direct Marvel's first Thor film in 2011. Branagh originally wanted him to play the title character, but decided Chris Hemsworth was a better fit. He then cast Hiddleston as the villain Loki, with his performance a big hit with fans and critics. He has played Loki in Thor's sequel and the two Avengers films. His most recent lead role has been in the 2017 film Kong: Skull Island, co-starring Samuel L. Jackson, John Goodman and Brie Larson. He has also been rumoured to be a front-runner to replace Daniel Craig in the James Bond film series.
Tom Hiddleston's Pup Steals the Show
While growing up, Tom Hiddleston was surrounded by animals in his family home. His golden retriever called Muffin, was named after her mother Crumpet, who was his best friend in the world and lived for 10 or 12 years. He also had two family cats called Orlando and Grace.
Now, Hiddleston has a dog of his very own named Bobby. His four-year-old chocolate brown Cocker Spaniel is his pride and joy. Hiddleston is rarely seen without him by his side. Headlines of Tom Hiddleston sightings often feature him and Bobby going on walks together in his hometown of Oxfordshir. "Hiddleston Goes For A Walk With His Pupper", "Tom Hiddleston Doubles Up with Masks While Taking His Dog", and "Tom Hiddleston Holding A Puppy Is The Best Thing You'll See Today" are a few of the top hits you'll find on Google. It almost seems as though the pooch is of higher interest to the paparazzi than Hiddleston himself!