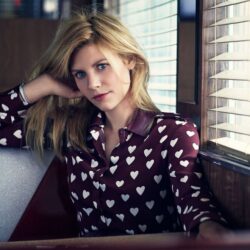 Birthday
April 12, 1979 (44)
Claire Danes is an American actress. She had an early start in 1994 playing Angela Chase in the series My So-Called Life. She won a Primetime Emmy nomination for Outstanding Lead Actress in a Drama Series for the role. Her film debut later that year was in Civil War film Little Women (1994). Her success led to a number of films in the 90s and 2000s.
In the 1996 movie "Romeo + Juliet," she played opposite Leonardo DiCaprio as Juliet. Danes also starred in "The Hours" with Meryl Streep, Julianne Moore, and Nicole Kidman. In the 2010 movie "Temple Grandin," she portrayed the title character and starred alongside Julia Ormond and David Strathairn. Danes' most notable TV role is as Carrie Mathison in "Homeland," in which she worked alongside Mandy Patinkin, Damian Lewis, and Rupert Friend. In the 2019 movie "A Kid Like Jake," Danes played the mother of a gender non-conforming child, and shared the screen with Jim Parsons, Octavia Spencer, and Priyanka Chopra. Her impressive list of co-stars also includes Steve Martin, Susan Sarandon, Winona Ryder, and Jared Leto.
Claire Danes was named one of the 100 most influential people in the world by Time in 2012 and she was awarded a star on the Hollywood Walk of Fame in 2015.
Claire Danes is married to Hugh Dancy.