 Rowdy
Peter DeLuise has a dog named Rowdy.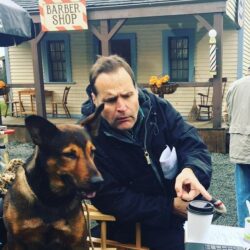 Birthday
November 6, 1966 (56)
Peter DeLuise is an American actor, television director, and television producer, primarily recognized for his role as Officer Doug Penhall in the 1987 TV series "21 Jump Street."
DeLuise made his mark in the world of television and film not only as an actor but also as a director and producer. He was a fixture on "21 Jump Street," where he played Officer Doug Penhall, a role that gained him considerable attention. DeLuise later transitioned to working behind the camera, directing episodes for shows like "Stargate SG-1," "Stargate Atlantis," and "Sanctuary." He even directed his father, Dom DeLuise, in an episode of "3rd Rock from the Sun," blending familial and professional ties.
Throughout his career, Peter DeLuise has had the privilege of working with a myriad of talents. On "21 Jump Street," he worked alongside Johnny Depp and Holly Robinson Peete. His directorial ventures led him to collaborate with actors like Richard Dean Anderson and Amanda Tapping in "Stargate SG-1," Joe Flanigan and Torri Higginson in "Stargate Atlantis," and Amanda Tapping again in "Sanctuary." On the set of "The Outer Limits," he worked with actors like Kevin Nealon and Alyssa Milano. Additionally, Peter had the chance to work with his brothers Michael DeLuise and David DeLuise in various projects.
DeLuise received a Leo Award nomination for Best Direction in a Youth or Children's Program or Series for the "Stargate SG-1" episode "Fragile Balance."