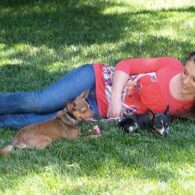 Rescue Dogs
Alyssa Milano currently has five rescue dogs and has adopted many over the years, including dogs Scout and Sydney, seen below. In 2011, she reportedly had 9 rescue dogs. Names of her previous dogs include Diesel (Australian Shepherd), Lucy (Chihuahua), Gibson (Chihuahua), Quixie (Australian Shepherd), and Dodger (German Shepherd). Milano is pictured here with Chihuahuas Lucy and Gibson.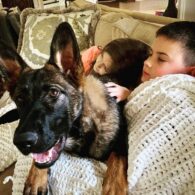 Sydney Crosby
Alyssa Milano has a rescued German Shepherd named Sydney Crosby, after NHL player Sidney Crosby. She adopted the lucky pup Sometime in early 2021. Chickens
Alyssa Milano has 8 chickens. Mini Horse
In January 2022, Alyssa Milano adopted a Mini Horse and first shared the news with Kelly Clarkson (and then her husband).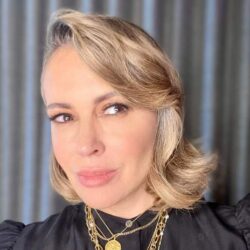 Birthday
December 19, 1972 (50)
Alyssa Milano is an American actress, producer, author, and activist, widely recognized for her significant roles in both television and film.
The beginning of Milano's acting career was characterized by her role in the popular sitcom Who's the Boss? where she played Samantha Micelli from 1984 to 1992. She then landed a role in the television drama Melrose Place and later, the supernatural series Charmed, where she played Phoebe Halliwell, contributing to the show's global success. In 2013, Milano was featured in the drama series Mistresses, maintaining her strong presence on television. On the big screen, Milano played significant roles in films like Fear, Hall Pass, and New Year's Eve.
Throughout her career, Milano has worked with a wide range of notable individuals from the entertainment industry. Her early work in Who's the Boss? included performances alongside Tony Danza and Judith Light. In Charmed, she shared the spotlight with Holly Marie Combs, Shannen Doherty, and later Rose McGowan. The Melrose Place cast boasted talents like Heather Locklear and Thomas Calabro, while on the set of Mistresses, she collaborated with Yunjin Kim and Rochelle Aytes. In the film New Year's Eve, she worked alongside an ensemble cast featuring Hilary Swank, Sarah Jessica Parker, and Robert De Niro.
Her dedication to her craft has been recognized through various awards and honors. In 1988, she received a Young Artist Award for Best Young Female Superstar in Television for her performance in Who's the Boss?. Her role in Charmed earned her a Spacey Award for Favourite TV Actress in 2005 and a Teen Choice Award nomination for TV – Choice Actress in 2006. She was also nominated for a People's Choice Award for Favorite Dramatic TV Actress in 2014 for her role in Mistresses.