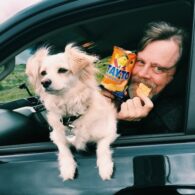 Millie
Millie is a rescued mutt that was originally Hamill's daughter Chelsea's dog, but passed onto him when he started filming the new Star Wars films in the U.K. Millie made headlines in July 2016, when Gary Fisher (Carrie Fisher's French Bulldog) and her weren't allowed into the wrap party for Star Wars: The Last Jedi for being dogs. The event was at the London Natural History Museum, which doesn't allow pets, so the dogs had to wait in a car until it was over.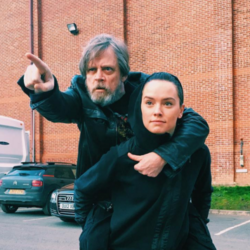 Birthday
September 25, 1951 (71)
Mark Richard Hamill is an American actor best known for his playing Luke Skywalker in George Lucas' Star Wars films. He started his acting career in the 1970s on the soap opera General Hospital and the sitcom The Texas Wheelers, along with many small TV show appearances.
A friend of Hamill's was auditioning for a movie next to where Star Wars was holding auditions. His friend watched the Star Wars auditions and thought Hamill would be perfect for the role of Luke Skywalker. He told Hamill, who auditioned and won, going on to co-star with Carrie Fisher and Harrison Ford. He continued as Skywalker for the next two sequels, Star Wars: The Force Awakens and the upcoming Star Wars: The Last Jedi. He is also well-known as a voice actor, with his portrayal of the Joker in animated versions of the Batman comic series his most iconic voice role. This started in 1992 with Batman: The Animated Series and continues today.