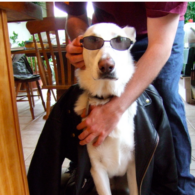 Cabal (2003-2013) (Dog)
Neil Gaiman has a dog named Cabal. He originally met him as Buck on the side of a highway where he thought the dog was lost and a stray. After stuffing the dog into his tiny car, he dropped Buck off at the local Humane Society known to be a no-kill shelter. The shelter managed to contact the owner who was a an aging farmer that could no longer look after the dog. After reaching back out to Neil, the Humane Society was able to get the dog from the farmer, and allowed Neil to adopt him. Shortly after that, Buck became Cabal, and had a long life with Neil from 2003-2013.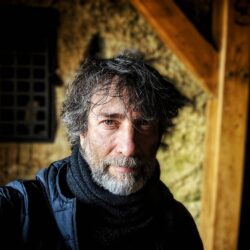 Birthday
November 10, 1960 (63)
Neil Gaiman is a British author whose works span a wide range of genres, from fantasy to horror to science fiction. He has written many acclaimed novels, short stories, and comic books, and has also worked extensively in television and film.
One of Gaiman's breakout roles was as the writer of the critically acclaimed comic book series "The Sandman," which ran for 75 issues from 1989 to 1996. The series follows the character of Dream, also known as Morpheus, as he navigates the world of dreams and the conflicts that arise with other mythological figures.
Gaiman's work has been adapted into numerous television shows and films, including the beloved 2009 stop-motion animated film "Coraline," based on his children's book of the same name. He has also worked as a showrunner and writer on the Amazon Prime Video series "Good Omens," which is based on the novel he co-wrote with Terry Pratchett. He also worked with Alan Moore on "The Sandman: Seasons of Mist."
In addition to his writing, Gaiman is also known for his collaborations with other artists, celebrities, and influential people. He has worked with musicians such as Amanda Palmer and Tori Amos, creating music videos and even performing as a backup vocalist. Gaiman has also collaborated with comic book artists like Dave McKean and Sam Kieth, and has written episodes for television shows such as "Doctor Who" and "Babylon 5."
One of Gaiman's most notable accomplishments is his award-winning novel "American Gods," which won the Hugo, Nebula, Bram Stoker, and Locus awards. The novel follows a man named Shadow who becomes embroiled in a conflict between the old gods of mythology and the new gods of technology and media. The book has since been adapted into a successful television series.