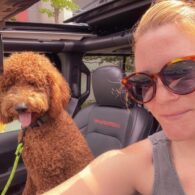 Georgia (Dog)
Philip DeFranco and his wife Lindsay have a Goldendoodle named Georgia that they got in January 2021. George is a trained Emotional Support Animal to help Lindsay with her anxiety.
Everyone meet Georgia, the newest member of the Defranco family. She's a 5 month old Golden-doodle. She's been trained as an ESA and helps with my anxiety. She is such a sweetheart and gets along with the kids wonderfully. They love her too

@linzdefranco, Instagram, January 2021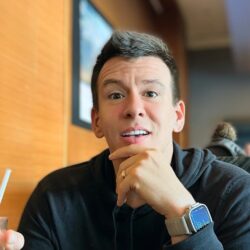 Birthday
December 1, 1985 (38)
Philip DeFranco is an American YouTuber, content creator, video blogger, and media personality, best known for his news show on YouTube, The Philip DeFranco Show. DeFranco embarked on his YouTube journey in 2006, offering a fresh and energetic perspective on news, politics, and pop culture. His candid and straightforward style quickly resonated with viewers, earning him a dedicated audience. The Philip DeFranco Show has become a go-to source for many seeking to understand and navigate the complexity of the world around them. DeFranco's influence extended beyond this flagship show with ventures like SourceFed, a news and pop-culture channel, which further cemented his standing in the world of digital content creation.
Throughout his career, DeFranco has had notable interactions and collaborations with a variety of other famous personalities. He's interviewed entrepreneur Gary Vaynerchuk, spotlighting the intersection of traditional and digital media. In 2018, he had a groundbreaking conversation with YouTube CEO Susan Wojcicki about the challenges and controversies faced by the platform. His discussions with actors like Kevin Hart and Dwayne 'The Rock' Johnson drew attention for their frank and engaging exploration of fame and celebrity. Conversations with fellow YouTubers like Shane Dawson and Casey Neistat also emphasized his connectivity within the creator community.
DeFranco's contributions to the new media landscape have been acknowledged on several occasions. He was awarded the YouTube Creator of the Year at the 2016 Streamy Awards, a testament to his innovation and influence. DeFranco also earned recognition as the Best Show of the Year at the inaugural YouTube Video Awards in 2007. Furthermore, SourceFed, his digital news venture, received the Audience Choice for Series of the Year award at the 2013 Streamy Awards.
Beyond his professional accomplishments, DeFranco has demonstrated a deep commitment to animal welfare. He has also used his platform to raise awareness and funds for animal-related causes. During the 2018 Camp Fire in California, he launched a successful fundraising campaign that directed resources towards animal rescue and rehabilitation efforts.