 No Pets (Christine Baranski)
Christine Baranski does not have any reported pets.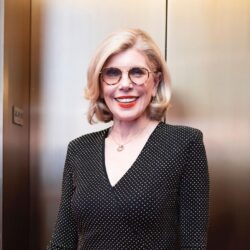 Birthday
May 2, 1952 (71)
Christine Baranski is an American actress who gained prominence for her role in the television series "Cybill," and has since established a versatile career in film, television, and stage.
She has appeared in a wide range of films and television series that span multiple genres. From comedic roles in movies like "Mamma Mia!" and its sequel "Mamma Mia! Here We Go Again," to more serious parts in dramas like "The Good Wife" and its spin-off "The Good Fight," Baranski has showcased her adaptability and skill as an actress. Her stage work includes standout performances in Broadway productions such as "Rumors" and "The Real Thing," which earned her a Tony Award.
Over the years, Baranski has worked alongside an array of industry talents. Collaborators include Meryl Streep in "Mamma Mia!" and "Into the Woods," Dianne Wiest in "The Birdcage," Johnny Depp in "Into the Woods," Julianna Margulies and Josh Charles in "The Good Wife," Audra McDonald in "The Good Fight," Hugh Grant in "Florence Foster Jenkins," and Cher in "Mamma Mia! Here We Go Again." She also starred opposite Jim Parsons in "The Big Bang Theory," Cynthia Nixon in "Addams Family Values," and Steve Carell in "Welcome to Marwen."
Baranski's career has been marked by numerous awards and distinctions. She won a Tony Award for Best Featured Actress in a Play for "Rumors" in 1989 and another for "The Real Thing" in 1984. She has also received multiple Emmy nominations, particularly for her role as Diane Lockhart in "The Good Wife" and "The Good Fight," and a Screen Actors Guild Award for her performance in the ensemble of "The Birdcage."