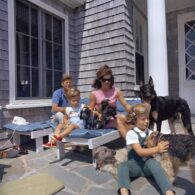 Kennedy Family Dogs
While in the White House, John F. Kennedy and his family had five dogs, with two of them having four puppies, which were eventually gifted to friends.
JFK's dogs names were:
Clipper, a German Shepherd.
Shannon, a Cocker Spaniel (a gift from the Barry Family in Ireland).
Wolf, an Irish Wolfhound (a gift from Father Thomas Kennedy in Ireland).
Charlie, a Welsh Terrier (a gift from Joseph P. Kennedy).
Pushinka, a mixed breed (a gift from Premier Khrushchev of Russia and pup to Russian space dogs Pushok and Strelka).
Pushinka and Charlie had puppies named Streaker, Blackie, Butterfly, and White Tips. Streaker and Butterfly were given away as puppies to two Midwest children, who Jackie Kennedy selected out of around 5000 people who wrote letters hoping to adopt one of them. Blackie and White Tips stayed at the Kennedy's home on Squaw Island but were eventually given to family friends. Robin
Caroline Kennedy had a pet yellow Canary named Robin, that was buried in the backyard of the White House. Debbie and Billie
Caroline Kennedy had two pet Syrian Hamsters named Debbie and Billie. The pair came from the Gulf Hamstery, which bred hamsters to be laboratory animals. They were notorious for escaping and escaped the second night at the White House, before JFK caught them under his bed. They became a couple and had a litter of pups. The hamster family met a tragic end, with one baby drowning in a bath tub and the father eating the rest of them. This led to the mother hamster killing the father, with the mother dying as a result of trying to eat him. Zsa Zsa
The Kennedy family had a pet bunny rabbit named Zsa Zsa.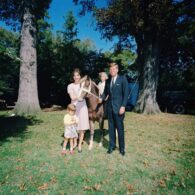 Kennedy Family Horses
The Kennedy family had five horses in total. Jackie's two horses were named Rufus, a Palomino, and Sardar, an Arabian (a gift from the President of Pakistan, Ayub Khan). The Kennedy children had three horses: Tex, a Yucatan Bay Pony (a gift from VP Johnson), Leprechaun, a Connemara Pony (a gift from the People of Ireland), and Macaroni, a Shetland-Roan mix. The Kennedys are seen here with Leprechaun.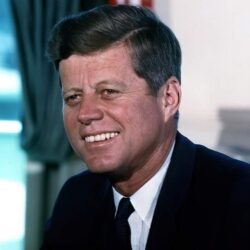 Birthday
May 29, 1917 (106)
John F. Kennedy, often recognized by his initials JFK, was a prominent American politician who served as the 35th President of the United States. His short-lived presidency, from 1961 until his assassination in 1963, still stands as one of the most influential and impactful in the history of American politics. Known for his charisma and vibrant oratory skills, JFK is remembered for his significant contributions in advancing civil rights, his handling of the Cuban Missile Crisis, and his ambitious goal to land an American on the moon. His legacy is carried forward by his daughter, Caroline Kennedy.
As the youngest elected president, JFK's tenure in the White House marked a critical turning point in American history. He confronted several monumental events and crises that set the course for the subsequent decades. Notably, he led the country through the most heated moments of the Cold War. His strong stance during the Cuban Missile Crisis of 1962, including a firm blockade of the island nation to prevent Soviet missile installations, exemplified his commitment to safeguarding American national security. Furthermore, Kennedy's "New Frontier" policy initiatives aimed at economic growth, education, medical care for the elderly, and space exploration, leaving a lasting legacy. The crowning achievement of these initiatives was realized when the Apollo 11 mission successfully landed American astronauts on the moon in 1969, a goal set forth by JFK earlier in the decade.
Kennedy's role was not just limited to the sphere of politics. He had an innate ability to captivate public attention and collaborated with various celebrities, influential figures, and world leaders. This included civil rights leader Martin Luther King Jr., with whom he navigated the complexities of the burgeoning civil rights movement. Furthermore, he collaborated with his brother and Attorney General Robert F. Kennedy on various legal and policy issues. Notable foreign collaborations included meetings with Soviet Premier Nikita Khrushchev, Indian Prime Minister Jawaharlal Nehru, and British Prime Minister Harold Macmillan, thereby shaping global geopolitics during a critical time in world history.
Kennedy's presidency was marked with several awards and distinctions. Notably, he received a Pulitzer Prize in 1957 for his book "Profiles in Courage", a collection of biographies of eight U.S. Senators who showed great courage under enormous pressure from their parties and constituents. His most enduring recognition, however, was the Presidential Medal of Freedom, awarded posthumously in 1963.