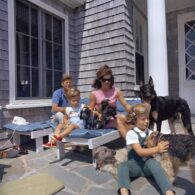 Kennedy Family Dogs
While in the White House, John F. Kennedy and his family had five dogs, with two of them having four puppies, which were eventually gifted to friends.
JFK's dogs names were:
Clipper, a German Shepherd.
Shannon, a Cocker Spaniel (a gift from the Barry Family in Ireland).
Wolf, an Irish Wolfhound (a gift from Father Thomas Kennedy in Ireland).
Charlie, a Welsh Terrier (a gift from Joseph P. Kennedy).
Pushinka, a mixed breed (a gift from Premier Khrushchev of Russia and pup to Russian space dogs Pushok and Strelka).
Pushinka and Charlie had puppies named Streaker, Blackie, Butterfly, and White Tips. Streaker and Butterfly were given away as puppies to two Midwest children, who Jackie Kennedy selected out of around 5000 people who wrote letters hoping to adopt one of them. Blackie and White Tips stayed at the Kennedy's home on Squaw Island but were eventually given to family friends. Robin
Caroline Kennedy had a pet yellow Canary named Robin, that was buried in the backyard of the White House. Debbie and Billie
Caroline Kennedy had two pet Syrian Hamsters named Debbie and Billie. The pair came from the Gulf Hamstery, which bred hamsters to be laboratory animals. They were notorious for escaping and escaped the second night at the White House, before JFK caught them under his bed. They became a couple and had a litter of pups. The hamster family met a tragic end, with one baby drowning in a bath tub and the father eating the rest of them. This led to the mother hamster killing the father, with the mother dying as a result of trying to eat him. Zsa Zsa
The Kennedy family had a pet bunny rabbit named Zsa Zsa.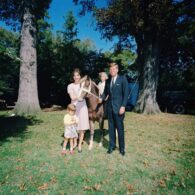 Kennedy Family Horses
The Kennedy family had five horses in total. Jackie's two horses were named Rufus, a Palomino, and Sardar, an Arabian (a gift from the President of Pakistan, Ayub Khan). The Kennedy children had three horses: Tex, a Yucatan Bay Pony (a gift from VP Johnson), Leprechaun, a Connemara Pony (a gift from the People of Ireland), and Macaroni, a Shetland-Roan mix. The Kennedys are seen here with Leprechaun.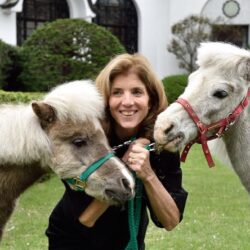 Birthday
November 27, 1957 (65)
Caroline Kennedy is an American attorney, diplomat, and author, best known for her role as the United States Ambassador to Japan from 2013 to 2017. Daughter of President John F. Kennedy and First Lady Jacqueline Kennedy, she has carried forth a unique blend of public service and legal expertise throughout her career.
Though she initially gained recognition because of her familial ties, Caroline Kennedy has carved out her own distinct path. Her written works include books on constitutional law and several poetry anthologies, which were widely received and reviewed. In addition to her writing, she served on the boards of multiple charitable organizations, like the John F. Kennedy Library Foundation and the American Ballet Theatre.
Over the years, Caroline has collaborated with various professionals across different fields. She has worked closely with Michael Bloomberg, the former Mayor of New York, on education initiatives. In her ambassadorial role, she had strategic meetings with Shinzō Abe, Japan's Prime Minister at the time. Other notable partnerships include those with Oprah Winfrey on literacy programs, author Stephen King in support of libraries, journalists Katie Couric and Tom Brokaw on social issues, former First Lady Michelle Obama on cultural diplomacy, and astronauts Buzz Aldrin and Scott Kelly on space exploration collaborations between the U.S. and Japan. During her ambassadorship, she was also engaged with CEOs like Tim Cook of Apple and Elon Musk of Tesla, discussing technological advances and potential economic partnerships.
Caroline Kennedy's years of service and contributions have not gone unnoticed. She received the Edmund S. Muskie Distinguished Public Service Award in 2015. During her time as Ambassador, she was instrumental in fostering Japan-U.S. relations, a feat that drew commendations from the Japanese government. She also received an honorary doctorate from the University of Tokyo for her role in enhancing the partnership between the two countries.