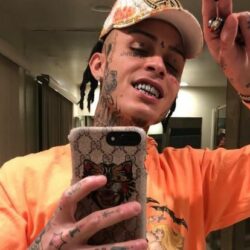 Birthday
August 4, 1998 (25)
Lil Skies is an American rapper and singer. Born and raised in Pennsylvania, Skies began making music at a young age and has since gone on to release multiple hit songs and albums, collaborating with a number of high-profile artists and producers along the way.
Skies' debut album, "Life of a Dark Rose," released in 2018. The album quickly climbed the charts and spawned several hit singles, including "Red Roses" and "Nowadays." Skies' distinctive voice and emotionally charged lyrics resonated with audiences around the world, earning him a dedicated fanbase and critical acclaim.
Skies has collaborated with a number of notable artists and producers throughout his career. He has worked with fellow rappers like Wiz Khalifa, Rich the Kid, and Lil Wayne, as well as producers like Murda Beatz and CashMoneyAP. Skies has also made appearances on popular tracks by artists like Travis Scott and Landon Cube.