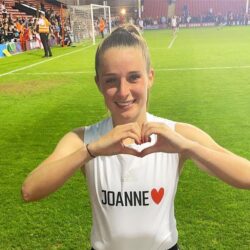 Birthday
September 2, 1999 (24)
Ella Toone is a English footballer, celebrated for her prowess on the field as a member of Manchester United Women and the England national team. With her first steps onto the professional field, she captured the attention of football enthusiasts and critics alike, her deft ball handling and sharp shooting skills marking her as a player to watch.
Her journey into prominence began with Manchester United Women, where her performance rapidly earmarked her as a critical player for the team. Her consistent goal-scoring ability, especially her memorable goal during the 2020-2021 FA Women's Super League, showcased her knack for finding the back of the net even under pressure. The television screens often lit up with her energetic play, making her a familiar face among the football community.
Throughout her growing career, Ella Toone has shared the field with numerous fellow football stars. Playing alongside talents like Katie Zelem, Millie Turner, and Leah Galton among others, has not only honed her skills but created memorable football moments that fans and pundits often reference.
Ella's excellence has not gone unnoticed as she has been honored with invitations to represent her country on the international stage. Her debut for the England national team was marked with a goal, setting a high bar for her International career.