 Cats
Actor J. K. Simmons and his family have a pet cat or possibly multiple cats. He told Dogster Magazine, "Now with all the traveling it's just cats. My daughter was campaigning for a dog but got a cat. The great thing about our cat is it thinks it is a dog, as it comes when you call it, and follows my daughter around everywhere." Dogs
J. K. Simmons doesn't currently have a dog, but he used to. In college, his best friend was a black Labrador named Sadie. When he was a kid, his family had a French Poodle named Suzette, but they rehomed her after she knocked his sister down the stairs.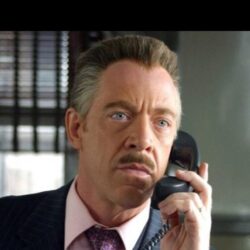 Birthday
January 9, 1955 (68)
Jonathan Kimble Simmons is an American actor who has appeared in over 200 movies and TV shows. He's best known for his leading role in Whiplash (2015) with Miles Teller. The role won him an Academy Award, a Golden Globe Award, a Screen Actors Guild Award, and a British Academy Film Award. He's also well-known for portraying J. Jonah Jameson in the Spider-Man films and as the voice of the Yellow M&M.