 Cats (Cat)
Actor J. K. Simmons and his family have a pet cat or possibly multiple cats. He told Dogster Magazine, "Now with all the traveling it's just cats. My daughter was campaigning for a dog but got a cat. The great thing about our cat is it thinks it is a dog, as it comes when you call it, and follows my daughter around everywhere." Dogs (Dog)
J. K. Simmons doesn't currently have a dog, but he used to. In college, his best friend was a black Labrador named Sadie. When he was a kid, his family had a French Poodle named Suzette, but they rehomed her after she knocked his sister down the stairs.
In a 2014 interview with Dogster, J. K. Simmons mentioned that he also grew up with a Black Lab named Sadie in college.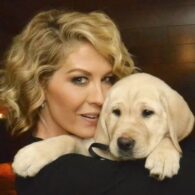 Guf (Dog)
The team behind NBC's comedy show "Growing Up Fisher" recently adopted an 8-week-old Labrador retriever named Guf, destined to become a guide dog for the visually impaired. The adoption has a personal connection to the show, which revolves around a family with a blind father. The series itself was inspired by the life of its executive producer, DJ Nash, whose father is also visually impaired. The dog will be cared for by a "puppy raiser" until it is 18 months old, after which it will receive specialized training to assist those with visual impairments. Nash emphasized the life-changing impact of guide dogs, not just for the visually impaired individual but for their entire family. The adoption was seen as a fitting tribute to Nash and his family, capturing the essence of the show's inspiration.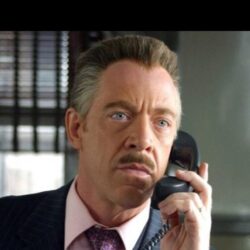 Birthday
January 9, 1955 (68)
J.K. Simmons is an American actor who has captivated audiences with his commanding presence and nuanced performances on both the big and small screens. With a career spanning several decades, J.K. has established himself as one of the most versatile and accomplished actors in Hollywood.
J.K.'s breakout role came in the late 90s, when he was cast as the menacing white supremacist leader in the HBO series "Oz." The role earned him critical acclaim and established him as a force to be reckoned with in the industry. Since then, J.K. has gone on to star in a number of successful films and television shows, including "Spider-Man," "Whiplash," and "Counterpart."
J.K. has also collaborated with a number of other artists and celebrities throughout his career. He has worked with directors like Sam Raimi, Damien Chazelle, and Jason Reitman, and has shared the screen with actors like Emma Stone, Tobey Maguire, Kirsten Dunst, Chris Pratt, Ben Affleck, Anna Kendrick, Jon Bernthal, and Miles Teller. In addition, he has lent his distinctive voice to a number of animated films and television shows, including "Zootopia" and "The Legend of Korra.