 Bugsy
Miles Teller has a dog named Bugsy.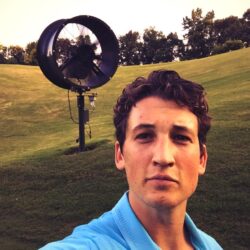 Birthday
February 20, 1987 (36)
Miles Teller is an American actor. He is most widely recognized for his roles as jazz drummer Andrew Neiman in Damien Chazelle's Whiplash (2015), playing opposite J. K. Simmons. And his role as pilot Lt. Bradley "Rooster" Bradshaw in Top Gun: Maverick (2021) with Tom Cruise, Jennifer Connelly, Val Kilmer, John Hamm, and Ed Harris.
Teller made his feature film debut in 2010 and soon gained recognition, most notably for his starring role in the 2013 coming-of-age film The Spectacular Now and the Divergent film trilogy (2014–2016), both opposite Shailene Woodley. His role in the 2014 Academy Award-winning drama Whiplash served as his breakthrough and earned him wide acclaim. Following Whiplash, he became a leading man, starring in multiple romantic comedies, the superhero film Fantastic Four (2015), and the 2016 biographical films War Dogs and Bleed for This, among others.