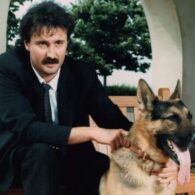 Gunther IV (Dog)
Gunther IV the German Shepherd was the original "World's Richest Dog" and he lived until the age of 13 (1992 until 2005). His official caretaker was Maurizio Mian, who also ran The Gunther Corporation. His story was that his dad, Gunther III, was left an $80 million dollar trust when his human, German countess Karlotta Leibenstein, passed away in 1991. Gunther IV was well known in his home country of Italy during the 1990s. He became famous in the United States in 2000, after buying Madonna's Miami mansion for $7.5 million, which his grandson, Gunther VI, sold in 2021 for $32 million. After the release of the 2023 Netflix docuseries Gunther's Millions, it became widely known that the story of the countess was fake and that the money was Mian's family's. Gunther IV was a puppy related to Gunther III, who was actually the pet of Mian's former girlfriend, Antonella Signorini.
Cristina Mian is an Italian businesswoman, model, and social media influencer. She's best known for her relationship with Maurizio Mian in the early 2000s, who was the handler for Gunther IV and currently for Gunther VI, the world's richest dog. She was also part of "The Magnificent 5", a group of five rotating models that were part of a social experience into happiness by The Gunther Corporation.
Maurizio and Cristina Mian had a daughter named Joy Ann Mian. After having a baby together, Cristina and Maurizio made headlines when Cristina said in a TV interview that her baby was "the daughter of Gunther". While not meaning it literally, the Italian press sensationalized the statement to mean that Gunther was the father of her child, not Maurizio. She's also known for her perfume brand called Profumi di Pantelleria.
For more info and frequently asked questions, visit our Gunther's Million's Recap.
Check out more celebrity pet profiles from Gunther's Millions below:
Maurizio Mian – Gunther IV-VI's handler and CEO of The Gunther Corporation
Karlotta Leibenstein (Charlotte Liebenstein) – The German Countess
Carla Riccitelli – Main representative to The Gunther Trust, Maurizio Mian's first ex-wife (who had a son together also named Gunther)
Antonella Signorini – Mian's ex-girlfriend and owner of Gunther III
Lucy Clarkson – Head of PR for The Gunther Trust
Lee Dahlberg – Official spokesperson for Gunther VI and The Gunther Trust