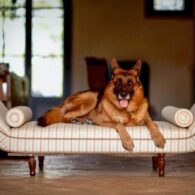 Gunther VI (Dog)
Gunther VI, born in 2018, is considered the world's richest dog with a fortune estimated at around $400 million. He comes from a lineage of German Shepherds, starting with Gunther III. The story was that Gunther III inherited $80 million from his human, a German countess named Karlotta Liebenstein. Gunther VI's owner and handler is Maurizio Mian, who is also CEO of The Gunther Corporation. Gunther VI made headlines in 2021 for selling his Miami mansion for $32 million, after his grandfather, Gunther IV, bought it from Madonna in 2000 for $7.5 million. After the release of the 2023 Netflix docuseries Gunther's Millions, it became widely known that the story of Karlotta Leivenstein was a hoax and Gunther VI's wealth is actually Maurizio Mian's.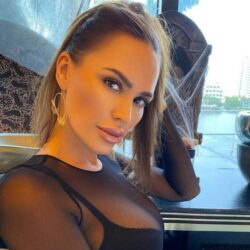 Birthday
July 6, 1982 (41)
Lucy Clarkson is an English model and public relations agent. She's best known for being the model for Lara Croft, the lead character from the Tomb Raider video game series, when she was 17 years old in 2000. She's also known for being head of PR for The Gunther Trust, which is the trust for Gunther VI, the world's richest dog. She has appeared on the covers of magazines such as Sports Illustrated, Marie Claire, FHM, and More. She has worked as a model for brands such as Chanel, Diesel, La Senza, Sandals Resorts, Wrigleys, De Beers, PlayStation, and more.
For more info and frequently asked questions, visit our Gunther's Million's Recap.
Check out more celebrity pet profiles from Gunther's Millions below:
Maurizio Mian – Gunther IV-VI's handler and CEO of The Gunther Corporation
Cristina Mian – Mian's second ex-wife and mother to their daughter Joy Ann
Carla Riccitelli – Main representative to The Gunther Trust, Mian's first ex-wife, and mother to Mian's son who's also named Gunther
Antonella Signorini – Mian's ex-girlfriend and owner of Gunther III
Karlotta Leibenstein (Charlotte Liebenstein) – The German Countess
Lee Dahlberg – Official spokesperson for Gunther VI and The Gunther Trust