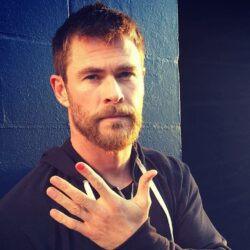 Birthday
August 11, 1983 (40)
Chris Hemsworth is an Australian actor. Born in Melbourne, Hemsworth began his career in the entertainment industry with small television roles in the early 2000s. Hemsworth's portrayal of the hammer-wielding superhero Thor in the Marvel Cinematic Universe has been one of his most iconic roles to date. He has starred in several films in the franchise, including "Thor," "Thor: The Dark World," "Thor: Ragnarok," "Thor: Love and Thunder," and "Avengers: Endgame." Hemsworth's performance as Thor has garnered him critical acclaim and helped him gain a massive fan following around the world. Chris shares the development of the Marvel Cinematic Universe with actors Robert Downey Jr., Chris Evans, Don Cheadle, Sebastian Stan, Mark Ruffalo, Anthony Mackie, Tom Holland, Brie Larson, and more notable names.
Aside from his role as Thor, Hemsworth has also delivered impressive performances in a variety of other films. He starred alongside Kristen Stewart in the film "Snow White and the Huntsman" as the titular huntsman, and he also appeared in "Rush," a biographical film about Formula One racing drivers James Hunt and Niki Lauda. He has also appeared in "Ghostbusters" and "Men in Black: International."
One of Hemsworth's most significant accomplishments in his career is his collaboration with director Taika Waititi. Waititi directed Hemsworth in "Thor: Ragnarok" and "Jojo Rabbit." The former was a massive critical and commercial success, and Hemsworth's comedic timing and improvisational skills were highlighted in the film. "Jojo Rabbit" was also praised for its performances and storytelling, and Hemsworth's brief but memorable appearance as a Nazi commander added to the film's acclaim.
Hemsworth has also worked with several other notable celebrities in his career. He starred alongside Charlize Theron in "Snow White and the Huntsman" and its sequel, "The Huntsman: Winter's War." He also worked with Tessa Thompson in "Thor: Ragnarok" and "Men in Black: International." Hemsworth and Thompson's chemistry in "Thor: Ragnarok" led to the creation of their dynamic duo in "Men in Black: International." Additionally, Hemsworth worked with Michael Mann in the film "Blackhat," and he also appeared in the all-female reboot of "Ghostbusters," alongside Melissa McCarthy, Kate McKinnon, and Leslie Jones.
Chris Hemsworth Family
Chris Hemsworth is married to "Fast and Furious'" Elsa Pataky, the pair make one of Hollywood's most notable comes. Chris Hemsworth has two brothers Liam Hemsworth and Luke Hemsworth.