Cuter Than Hemsworth
He might have been crowned People Magazine's Sexiest Man Alive for 2014, but most would say his Cavoodle stole the spotlight that year. Adopted by both Hemsworth and Elsa Pataky, we do not know what his name is. However, that won't stop us from writing about the adorable member of the family and sharing photos of him.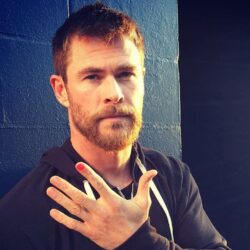 Birthday
August 11, 1983 (39)
Chris Hemsworth is an Australian actor. He is best known for his on screen for his role as Thor in the Marvel Cinematic Universe (MCU) which has produced 8 movies with the role: Thor (2011), The Avengers (2012), Thor: The Dark World (2013), Avengers: Age of Ultron (2015), Thor: Ragnarok (2017), Avengers: Infinity War (2018), Avengers: Endgame (2019), Thor: Love and Thunder (2022).
His first Hollywood appearance was in the Star Trek (2009) remake. After seeing immediate success, Chris had roles in Snow White and the Huntsman (2012), Red Dawn (2012), Blackhat (2015), Men in Black: International (2019), Extraction (2020), the thriller A Perfect Getaway (2009) and the comedy Ghostbusters (2016).
He was voted People Magazine's Sexiest Man Alive for 2014.
Chris Hemsworth Family
Chris Hemsworth is married to "Fast and Furious'" Elsa Pataky, the pair make one of Hollywood's most notable comes. Chris Hemsworth has two brothers Liam Hemsworth and Luke Hemsworth.