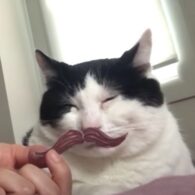 Nino Positano
Kate McKinnon has one pet cat called Nino Positano, named after the pizza restaurant he was found at. Nino has appeared in a few Saturday Night Live sketches with McKinnon. When Jimmy Fallon asked McKinnon about leaving SNL and its busy work schedule, she did an impression of her cat's reaction to her suddenly being home all the time, saying "My cat has been like, oh now you're home, after a decade of you being gone, out all hours! Now you're home!" Fine, well I am already asleep." Willy
When Kate McKinnon was growing up, she had a pet iguana named Willy. She told Oprah when interviewed for O Magazine that "We had a very contentious relationship. It turns out that iguanas are not meant to live in suburban homes. Willy was constantly stressed out, he pooped everywhere, he developed eating problems—it was a mess."
Kate McKinnon is an American comedian, actress, and writer. Born and raised in New York, McKinnon began her career in comedy as a member of the sketch comedy group Upright Citizens Brigade. From there, she went on to become a regular cast member on "Saturday Night Live," alongside Tina Fey, where she has gained a reputation for her spot-on impressions and unique characters. She has also been nominated for several other awards, including several Primetime Emmy Awards and a Critics' Choice Television Award.
McKinnon's breakout skit came in the form of her impression of Hillary Clinton during the 2016 presidential campaign. Her portrayal of Clinton became an instant hit, earning her critical acclaim and widespread recognition. She has also portrayed a wide range of other political figures, including Kellyanne Conway, Elizabeth Warren, and Ruth Bader Ginsburg.
In addition to her work on "Saturday Night Live," McKinnon has also appeared in several films and television shows. Some of her most notable roles include Dr. Jillian Holtzmann in the 2016 reboot of "Ghostbusters" with Melissa McCarthy, Kristen Wiig, Leslie Jones, and Chris Hemsworth, and Pippa in the Netflix series "The Spy Who Dumped Me." In 2018, she provided the voice for Ms. Frizzle's pet lizard, Liz, in the Netflix series "The Magic School Bus Rides Again." She also played Carole Baskin in the miniseries Joe vs. Carole (2022), based on the story of Tiger King Joe Exotic.
McKinnon plays Weird Barbie in the 2023 Barbie movie with Margot Robbie and Ryan Gosling.