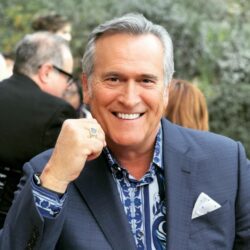 Birthday
June 22, 1958 (64)
Bruce Campbell is an American actor, director, producer and writer. He is known for portraying Ash Williams in Sam Raimi's Evil Dead franchise, beginning with the 1978 short film Within the Woods. He has starred in many low-budget cult films such as Crimewave (1985), Maniac Cop (1988), Sundown: The Vampire in Retreat (1989), and Bubba Ho-Tep (2002).
In television, Campbell had lead roles in The Adventures of Brisco County, Jr. (1993–1994) and Jack of All Trades (2000), and a recurring role as Autolycus, King of Thieves, in Hercules: The Legendary Journeys and Xena: Warrior Princess (1995–1999). He played Sam Axe on the USA Network series Burn Notice (2007–2013) and reprised his role as Ash Williams on the Starz series Ash vs. Evil Dead (2015–2018).
Campbell started his directing career with Fanalysis (2002) and A Community Speaks (2004), and then with the horror comedy feature films Man with the Screaming Brain (2005) and My Name Is Bruce (2007), the latter being a spoof of his career. He can also be seen as the role of the father in The Escort (2015).