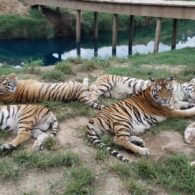 GW Zoo
Joe Exotic's G.W. Zoo is now permanently closed to the public, but the details of the closure are still being debated. After Joe went to jail, his former colleague, Jeff Lowe, was put in charge. Lowe had partnered with Tim Stark, the owner of nonprofit organization Wildlife in Need, to keep G.W. Zoo open, but in March 2020, Refinery 29 reported that Indiana's Attorney General had filed a lawsuit against Stark and Wildlife in Need for animal abuse and misappropriation of assets.
Joseph Allen Maldonado-Passage, known professionally as Joe Exotic and nicknamed "The Tiger King", is an American media personality, businessman, former chief of police whom operated the Greater Wynnewood Exotic Animal Park (also known as the G.W. Zoo) in Wynnewood, Oklahoma from 1998 to 2018.
Exotic left the G.W. Zoo in June 2018 and was arrested three months later on suspicion of hiring two men to murder Big Cat Rescue founder Carole Baskin, with whom he had a complicated rivalry. In 2019, Exotic was convicted and sentenced to 22 years in prison on 17 federal charges of animal abuse and two counts of attempted murder for hire for the plot to kill Baskin. In 2021, he worked with attorney John Michael Phillips to file a motion for a new trial, and on July 15, 2021, a U.S. appeals court ruled that Exotic's sentence was too harsh and that the two separate murder attempts were treated as separate convictions. The court reduced his sentence by 1 year, sentencing him to 21 years in late January 2022. Exotic has an eccentric personality and has been subject to substantial criticism, especially for the controversies surrounding his feud with Baskin and the treatment of animals at the G.W. Zoo. Exotic has been featured in several documentaries, including the Netflix series Tiger King: Murder, Mayhem and Madness (2020–present), a documentary about Exotic's career as a zookeeper and his feud with Baskin. The success of the first season of Tiger King amid the worldwide COVID-19 lockdowns led to Exotic receiving attention on social media and inspiring several internet memes. Exotic also appears in two Louis Theroux documentaries, America's Most Dangerous Pets (2011) and Shooting Joe Exotic (2021).